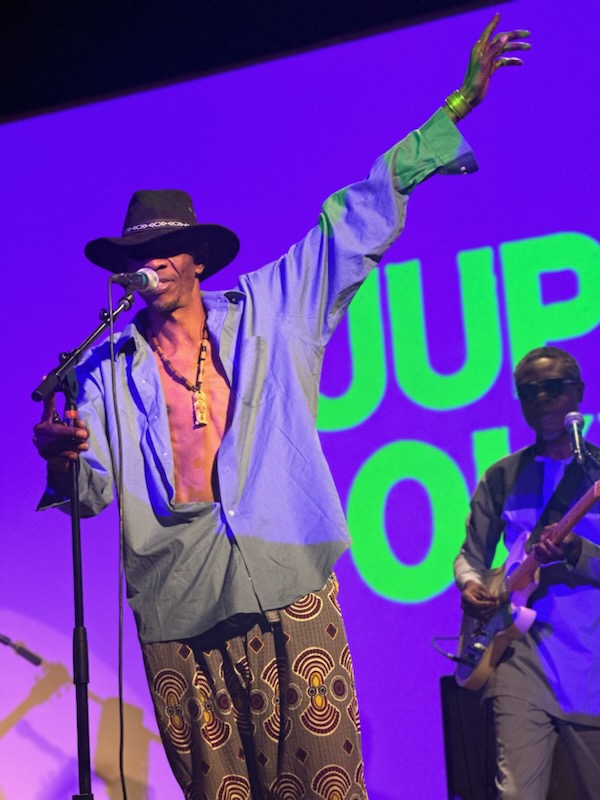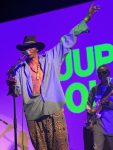 The Cedar's events manager and volunteer coordinator, Jared Hemming, introduced Jupiter & Okwess with a flourish, but the band did not appear. Instead we watched for several minutes a documentary film introducing the band and placing them in their country with its political and social turmoil as well as its depth of culture and music.
Then Jupiter Bokondji along with his band Okwess stormed the stage at The Cedar on Tuesday night, June 20th performing irresistible dance music straight out of the roots of their Congolese home.
Visual images played on the screen throughout their performance, a melange of African art, masks, political and social commentary, soldiers, children, dancing, and musicians all displayed and juxtaposed with geometric vibrantly colored shapes.
They played their hearts out despite the small crowd of fewer than seventy people as if the joy of the music was all they needed to motivate themselves.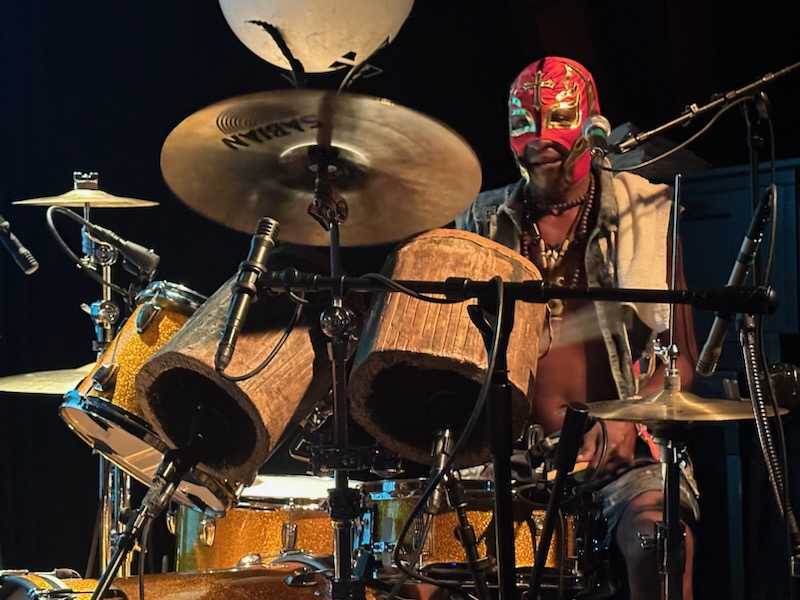 In the mostly standing audience, we danced. Some of us danced with abandon, so much so that Jupiter pulled one of the dancers on stage. The yoga and Pilates instructor didn't hesitate, but leaped into the limelight and added to the highly entertaining evening.
The band played for 75 minutes, one song rapidly followed by another in many languages of the Democratic Republic of Congo including Lingala, Tetela, Ekonda, Mongo and Tshiluba. Jupiter occasionally spoke a word or two to the audience in French. He would have liked to say more, but was unwilling to attempt much more English than Thank you and Let's Go!!
His most powerful voice was in the music he made. He sang, shouted, growled, trilled, and laughed with gusto. Not only Jupiter, but also bass guitarist, Yende Balamba Bongongo, often floored us with his rich bass voice that could easily compare to the powerful voices heard at the Lincoln Center in New York City.
Rounding out the band, Eric Malu- Malu Muginda on rhythm guitar and Richard Kabanga Kasonga on guitar. Drummer, Montana Kinunu Ntunu, wore a mask a la Spiderman, but Montana's mask was decorated with metallic wings along the side of his head and a wing-design highlighting his eyes. After the show, he told me in French he did it for a mystical effect.
The Cedar was in top form, their sound system on par with the fantastic, compelling sound coming from the band. Between the funk, Soukous, and AfroPop pummeling us in the best way, I'd look askance at the low turn-out, yet thankful that those of us who were there found the exuberant music as thrilling to listen to as the musicians found it thrilling to play.
I hope they return. I'm ready to dance myself ragged again.
Susan is based in Minneapolis and reports on general assignments for Mshale with a focus on entertainment. In addition to reporting, she is also a writer, poet, teacher and coach.





(1 votes, average: 5.00 out of 5)


Loading...