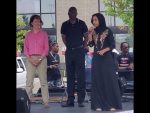 After a week of canceled outdoor events due to unhealthy air quality, the Twin Cities finally got to celebrate the first Juneteenth since Gov. Tim Walz signed a bill making the day a state holiday.
Residents from the larger metro area filled the streets of the West Broadway district in Minneapolis on Monday June 19 to celebrate one of the most important holidays for Americans of African descent. The celebration was also a showcase of Black organizations and businesses, ranging from skincare, clothing, financial education services and economic equity advocacy, to food and healthcare.
Dubbed Juneteenth Block Party, it was the second annual event organized by BOB (Black Owned Business) Rewards Club, which aims to bridge the racial wealth gap by campaigning for Black ownership of businesses and advocating for existing ones.
Ladina Y. Posey, the community engagement coordinator at the Association for Black Economic Power, said that in addition to celebrating the day the last enslaved people were set free, it was an opportunity to highlight the various businesses and bring a different spotlight to West Broadway, a district she said "gets such a bad rep."
"There are a lot of Black businesses that are struggling because of what is put out there into the social [media] realm," Posey said. "[West Broadway] does have things that happen just like any metro community, [but] it is not unsafe.
Advocates of Black prosperity often use gatherings like the Juneteenth Block Party to stress the importance of closing the wealth gap by creating economic independence for the African American community. Although Black Americans make up 14% of the population of the United States, only 2% of them own businesses, according to the Federal Reserve. The main reason there are so few Black business owners is because it can be difficult for Black Americans to come up with capital, considering that their households hold just under 3% of the country's wealth, compared to nearly 87% held by white Americans, according to the Federal Reserve. Even those who manage to secure capital often find themselves struggling to stay afloat, leading to a significant number of them failing. In early 2020, for example, the National Bureau of Economic Research published a study showing that the number of businesses owned by Black entrepreneurs experienced the sharpest decrease, 41%, compared to 32% and 25% for Latino and Asian American businesses, respectively.
"We need to make it for our people," Posey said. "They can't make it without our support."
The block party showcased businesses like Mama Bling, a home customizing and décor business.
"It's very important to show off Black businesses, not only ours, but everyone coming into a situation like this in general," said Livv Rankin, one of the business partners of Mama Bling. "Not only am I giving out my Black business, but also, I get to celebrate everyone else's."
The block party started off with a parade and performances by local dance groups like the Twin Cities Masquerades Dance Team, and the TKO Drumline & Knock Out Dance Team
Several speakers also discussed other issues such as violence, housing, and education, including Minneapolis NAACP President Cynthia Wilson, Minnesota Lieutenant Gov. Peggy Flanagan, and Karen Wells, whose son, Amir Locke, was killed by a Minneapolis Police Department officer on Feb. 2, 2022.
Although the most recent legislative session passed laws such as the one that guarantees free school meals for every child, and the Child Tax Credit, which are projected to lower child poverty by a third statewide, Flanagan said there was a lot more to do.
"Today is a good day to celebrate, but also a good day to acknowledge that we have so much more work to do," said Flanagan. "This is simply a down payment for the work that we have to continue to do together."
Williams, the Minneapolis NAACP president, spoke about the important role the family and the community can play in reducing not only gun violence, but all violence.
"Oftentimes, we say it takes a village to raise a child, but the truth is, it takes a village to raise a family," Williams said. "And if we go back historically, y'all, we can recognize that the family is what was the foundation to make everything run effectively in our communities. You break up the families, you break up the community."
For St. Paul resident Bridgette Noel, Juneteenth celebrations have a significant generational value. Noel said she had been participating in Juneteenth celebrations for as long as she could remember. She said she would continue to recognize the importance of the celebration to her children and grandchildren.
"It's about time," Noel said. "We've come so far. So, so far. Our, ancestors and grandmothers and great-grandmothers and great-grandfathers paved the way for us, so this is a great way of showing them [that] we finally got it. We finally made it."
Although the Emancipation Proclamation abolished slavery by on January 1, 1863, enslaved people in Texas didn't find out that they had been freed until June 19, 1865, when U.S. Maj. Gen. Gordon Granger announced through an executive decree known as General Order No. 3.
In 1866, a group of freed African Americans came together to celebrate the end of centuries of enslavement. The day became known as Juneteenth and is the oldest know holiday celebrating emancipation of enslaved people, according to the National Archives. Juneteenth has since evolved to become one of the most important holidays that commemorate the resilience of the Black community in the United States. It has been a state holiday in Texas since 1980.
Minnesota is one of 27 states that have enacted laws proclaiming Juneteenth an official government holiday. On June 17, 2021, President Joseph R. Biden signed a law that made Juneteenth a federal holiday.

Milkee is a general assignments reporter.





(No Ratings Yet)


Loading...