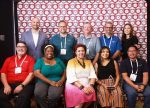 The city of Brooklyn Park was on Thursday honored by the League of Minnesota Cities (LMC) with the City of Excellence Award for "Creative Solutions for City Housing Challenges."
LMC recognized the city for its "Enhanced Inspections via Door-Knocking at Large Apartments" initiative during its annual conference held in Duluth where over 700 elected and appointed officials from cities gathered. It was the highest turnout of the annual event in 20 years, according to League officials.
According to a news release, the City of Excellence Awards are given by LMC to recognize cities for outstanding programs or projects.
The win comes with a plaque, a check for $1,000, and recognition in League publications and promotional activities throughout the coming year.
The city piloted the door-knocking initiative following a study conducted by the University of Minnesota's Center for Urban and Regional Affairs (CURA) that examined experiences in Brooklyn Park's large apartment communities.
The CURA study found that those living and managing the large apartment complexes named affordability, safety, and dignity in housing as their major concerns.
Following meetings with various stakeholders, including renters and community leaders, city staff identified large apartment communities that merited an enhanced inspection response. Property managers were then informed when their scheduled door-knocking would take place.
The door-knocking exercise involved informing residents on how to report concerns to property managers and providing them with information on how to access resources such as emergency assistance, food and housing.
Mr. Jason Newby, the city's inspections and environmental health manager, praised his staff for the success of the program and attributed it to their ability to "shift and respond" to the growing needs of residents.
"Rental inspectors and community engagement staff piloted a renter-centered proactive door knocking approach focused on addressing maintenance, communication, and other livability concerns," Mr. Newby said. " Their dedication and compassion for their work, and the residents of Brooklyn Park, is why this program was a huge success."

Born and raised in Kenya's coastal city of Mombasa, Tom is the Founder, Editor-in-Chief and Publisher of Mshale which has been reporting on the news and culture of African immigrants in the United States since 1995. He has a BA in Business from Metro State University and a Public Leadership Credential from Harvard's Kennedy School of Government. He was the original host of Talking Drum, the signature current affairs show on the African Broadcasting Network (ABN-America), which was available nationwide in the United States via the Dish Network satellite service. On the show, he interviewed Nobel laureates such as 2004 Nobel Peace prize winner, Professor Wangari Maathai, the first woman from Africa to win the peace prize and heads of states. Tom has served and chaired various boards including Global Minnesota (formerly Minnesota International Center), the sixth largest World Affairs Council in the United States. He has previously served as the first Black President of the Board of Directors at Books for Africa. He also serves on the boards of New Vision Foundation and the Minnesota Multicultural Media Consortium. He has previously served two terms on the board of the United Nations Association. An avid runner, he retired from running full marathons after turning 50 and now only focuses on training for half marathons.





(No Ratings Yet)


Loading...