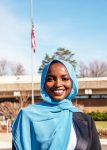 Nadia Mohamed, a state DEI specialist and current mayor pro tem of the St. Louis Park City Council, filed officially to run for mayor during the filing period that closed last week.
She will become the first Somali mayor in Minnesota if she beats retired banker Dale Anderson in November. Anderson is the only other candidate that filed by the deadline.
A win in November will also make her the second elected Somali mayor of an American city after Mayor Deqa Dhalac of South Portland in Maine.
St. Louis Park, where the former prime minister of Greece, Andreas Papandreou, used to live in the 1950s,  is one of a handful of cities in Minnesota that use ranked choice voting for local elections. The city of almost 50,000 is mostly white but has seen its population of people of color more than double in the last twenty years, according to U.S. Census figures.
Mohamed's official campaign to become St. Louis Park's next Mayor began in April after current Mayor Jake Spano announced he will not be seeking reelection. The campaign kickoff event was held at the Westwood Hills Nature Center on May 31.
If elected, Mohamed would be the first Black person, first Muslim and first Somali to hold the office of Mayor in St. Louis Park's history and at 26, the youngest mayor to be elected. She made history in 2019 when she became the youngest council member elected to the first ring Minneapolis suburb's city council, as well as the first Muslim and Somali councilor. Just a year earlier the city had awarded her its 2018 Human Rights Award.
The city council has seven members which includes the mayor. Four members are elected to represent specific wards while the mayor and two "at-large" members are elected by voters citywide. Mohamed is one of the at-large members, meaning she had to campaign citywide when she ran in 2019 and won.
In November, local elections on the ballot for St. Louis Park voters will include the election of mayor, two at-large council members (At-Large A and At-Large B) and one school board member.  Yolanda Farris who was appointed by the city council in January to fill the vacant At-Large A seat until the November election, looks set to win the seat in her own right in as she is running unopposed.
After the candidate filing period closed last week, Mohamed sat down with Mshale for an interview regarding her candidacy and the future of the city she wants to be mayor of.
Mohamed came to the United States in 2007 as a refugee from Somalia at the age 10 with her family and settled in St. Louis Park where she has lived ever since. She graduated from Metropolitan State University in St. Paul with a bachelor's in human resource management and services.  She is on track to complete graduate school at the end of this year at the University of St. Thomas where she is enrolled for a master's in educational leadership and administration.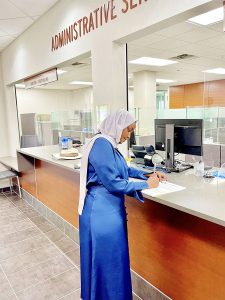 She listed her campaign priorities as public safety and community police relations, affordable housing and support for small business. These are already issues she says she has championed during her time on the Council and plans to continue doing so as mayor.
A case in point is her history of building relationships with the police department before she ran for office, through her work on the Multicultural Advisory Committee.
Mohamed believes her lived experience as an immigrant and renter shapes her approach to leadership and will be an asset in how she approaches her role as mayor.
"I bring an irreplaceable level of experience to my work as a representative," she said.
Mohamed said she is concerned about disparities in the homeownership rates in St. Louis Park. She plans to work on the expansion of the First-Generation Home-Buyers Program and the Community Land Trust program, as well as zoning code reforms. As a council member, she said she successfully advocated for utilizing tax increment financing to ensure developers build affordable housing units.
She says her time on the council has given her a valuable lesson on how to make government work for all residents, lessons she plans to use as mayor if elected.
"One of the most profound lessons I've learned during this time is the intrinsic pace of government operations," she said.
Understanding the slow but thorough process of government decisions, she has come to appreciate the importance of checks and balances in effective governance.
The $2.7 billion 14.5-mile Southwest LRT extension of the Green Line will connect downtown Minneapolis and Eden Prairie through St. Louis Park, Hopkins and Minnetonka. Though under the purview of the Met Council, local elected officials where the line goes through get asked to weigh in with opinions on the controversial cost overruns of the project.
Mohamed on her part says while she is also concerned about the extension's cost overruns, her bigger concern is gentrification the line might bring in a city where the owner-occupied housing unit rate of 58% is already below the state's 72%.
"My main goal with this project is to ensure that it doesn't lead to gentrification and that we have affordable housing surrounding it," she said.
Election Day is Tuesday, November 7. You can register, check or update your registration at the Secretary of State's website.

Mshale Contributor Mohamud Farah Dulyadeyn is the host of Wacyi Show for Somali Cable TV. He is an alum of Metropolitan State University, where he majored in journalism.





(No Ratings Yet)


Loading...