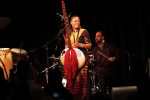 There was no preamble to Sona Jobarteh and band's show at The Cedar on August 14th. The musicians didn't need it and the at-capacity audience of 550 people didn't want it. As soon as Jared Hemming, Events Manager and Volunteer Coordinator delivered his brief spiel about both the venue and the band and exited the stage, we wanted to hear nothing more than the virtuosic kora playing of Sona Jobarteh.
The audience was primed to dive into Gambian music. A sizable crowd scattered throughout the packed audience claimed Gambian heritage and birth-right. Many others were part of the African diaspora.
The bulk of the attendees had watched a national topical show, CBS's 60 Minutes, which recently rebroadcasted a segment that featured Sona Jobarteh. Said one new fan, "I watched her on [TV], immediately looked her up on Spotify, and then checked her touring schedule."
The happy result? A lot of curious and besotted people, especially an older crowd, found themselves standing in a line that snaked its way down the block outside of the Cedar on Monday evening. Everyone of them had a ticket, the show sold-out in pre-sales, but with general seating, needed to follow the first-come-first-served protocol.
The show opened with percussionist Mouhamadou Sarr striking the calabash in various rhythmic patterns. As the rest of the band filed on stage, Mouhamadou persisted and the audience began an impromptu call-and-response by clapping the rhythms Moumad created.
After several minutes of rhythms, the rest of the band, clad in burgundy tunics and trousers, took up their instruments and began to play. The band was the same band that played earlier this year in March at the Dakota: Eric Appapoulay on guitar, Andy Mclean on bass, and drummer Westley Joseph.
A short interval later, Sona Jobarteh, a striking woman in a form-fitting two-piece dress, climbed the stage steps and hoisted the kora into its holster on her hips. Her outfit with a pattern akin to an apothecary chest, included the deep burgundy, but also shone with yellows and blues. Her braided hair highlighted her warm and friendly face.
Jobarteh's music aligns with her life philosophy. It's all about inclusion and empowerment. She behooved us to sing a response to her calling out Jarabi, which was the name of her next number. Despite most of us don't speak Malinke, we found ourselves singing, "Woyiyo woyiyo jarabi" to the delight of Jobarteh.
Jobarteh dedicated the song to her grandmother, telling us how her grandmother had a dream that included Jobarteh playing the kora, a traditional instrument steeped in a history of boys and men playing it, but never women.
As the dream helped to set the trajectory of Jobarteh's life, she'd always wanted to ask her grandmother why she had that dream, "but I didn't get a chance to ask" she said, before her grandmother passed.
More than ninety minutes of music and education filled our ears.
Jobarteh explained the education that she felt was imperative as a precursor to African mental and financial independence. She lamented that even basic music education in Africa introduced classic European instruments before classic African instruments. "Our own music is not taught," she said.
The work Jobarteh is doing she hopes will "sow the seeds in the minds of the next generation…so that when we invest in the younger generation, we will change the future" and break away from the Africa that is deeply rooted in colonialism."
Sona Jobarteh Set-list at The Cedar on August 14, 2023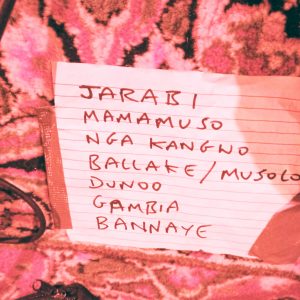 Susan is based in Minneapolis and reports on general assignments for Mshale with a focus on entertainment. In addition to reporting, she is also a writer, poet, teacher and coach.





(1 votes, average: 5.00 out of 5)


Loading...