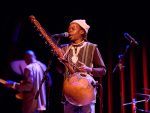 What defines Baba Commandant and the Mandingo band might be described as guttural singing or throat singing or Tina Turner-like screaming, maybe most closely as growling, but none are a perfect account of what we heard on September 20th on stage at The Cedar Cultural Center.
This band from Burkina Faso populate the stage a half-hour later than scheduled starting with the bass player, Jessie "JC" Josias Ouedraogo who quietly walks up the stairs and begins strumming his guitar. A minute or two later, Issouf Diabate climbs the steps to take his lead guitar and Doudou Kabore seats himself behind the drum kit.
At last Baba Commandant slips into the mix, but when he opens his mouth, we hear his distinctive and unique vocalizations as they perform Natembolo with Baba wielding a shekere, a dried gourd covered in a web woven with cowries.
The ten minute song drives through the audience with an electric charge urging us to dance, but many are not quite sure how to interpret Baba's riveting sound and instead only sway and bounce a bit as we watch in fascination.
The band continues with a slightly slower tune, Afromandingo, and Baba picks up his donso ngoni, the hunter's harp.  This ngoni resembles a kora, but with fewer strings. Baba wears a cap on his head that resembles a square of fabric shaped and knotted for his head alone. His shirt appears to be a white tunic with an ornate vest, but looking more closely, it's clear the vest and tunic are one draping blouse.
Baba concludes the song sung in Mandinka and then speaks to the audience in French with the candor as if we can all understand him. JC provides a presumed translation in English.
By the fourth song, Semayala, we are invited to mimic Baba's growl and we all discover how challenging it is. It's not like reading to a young child and asking, "What does the lion say?" Baba's guttural vocalization is loud and long with full support of his diaphragm and vocal cords as strong as a bungee cord. I can't even approach making that sound without injuring myself.
The band plays together without a hitch, they are a well-oiled machine in function, but not to the point of humdrum, playing by rote. Throughout their setlist, they take turns solo-ing and featuring their instruments. Baba's clearly the leader, yet he concedes to his bandmates and relishes their musicianship.
They play for nearly two hours covering at least 14 different songs. By the end, most people were dancing and a couple of tired children were flat on the floor while dancers stepped around them.
Susan is based in Minneapolis and reports on general assignments for Mshale with a focus on entertainment. In addition to reporting, she is also a writer, poet, teacher and coach.





(No Ratings Yet)


Loading...