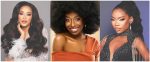 Africa could make history this year if a daughter of immigrants from the continent wins the coveted Miss USA Pageant crown.
Monni Kwamboka Nyaribo, Derby Ozioma Chukwudi, and Savena Mushinge, are competing for a chance to win the 72nd Miss USA Pageant. The event takes place tonight, Sept. 29, 2023, at the Grand Sierra Resort in Reno, Nevada.
"We're looking forward to the moment when this year's deserving champions are crowned," Laylah Rose, the president and CEO of the Miss USA & Teen USA Organization, said in a statement.
The daughter of Kenyan immigrants, Nyaribo made history on June 11 when she became the first African American woman in the pageant's 72-year existence to be crowned Miss North Dakota USA. It was her second run in the competition, having placed 4th in 2022.
Nyaribo was born in Champlin, Minnesota, and moved to Fargo to attend North Dakota State University. She is passionate about "philanthropy and the betterment of humankind" and aspires to become a United Nations Ambassador, according to Miss USA's website. She proudly wears her afro to express "the beauty and diversity" of Black women's hair and is advocating for the state of North Dakota to pass the Creating a Respectful and Open World for Natural Hair Act, which would prohibit race-based hair discrimination. Known as the CROWN Act, it is already the law in 24 states, including her birth state of Minnesota.
Speaking from Reno, where he was to support his daughter, Dr. Obed Nyaribo said her interest in beauty pageants began when she was in middle school, although she's been dancing in competitions since she was 3 years old. She has since competed in numerous pageants and won many of them, including three times as Miss North Dakota State University, he said.
"She never gives up no matter the hardship," he said. "I pray that [God's] will be done — that He may find favor with Monni to become Miss USA."
According to a study commissioned by LinkedIn and Dove, "bias against natural hair can impact how Black women navigate the hiring process." The research found that Black women's hair is 2.5 times more likely to be perceived as unprofessional in the workplace, forcing 66 % of Black women to change their hairstyles before going of job interviews.
Chukwudi, the reigning Miss New Jersey USA, was born in Dallas Texas and raised in Lagos, Nigeria, where she lived in until she was 16 when she left home for college, according to Miss USA website. She is a finance professional working with the Global Investment Strategy Team at JPMorgan Private Bank in New York City. Chukwudi was a 2023 finalist for the She Inspires Rising Star Awards for her "exceptional leadership, responsibility, and impact in her field." She is an advocate of the implementation of a financial education curricular in all 50 states.
Mushinge was crowned the 2023 Miss Maryland USA in a competition that had more than 100 contestants. She is the first Zambian American to compete on both the state and national level of the pageant, according to Miss USA. Mushinge also serves as the U.S.-Zambia Tourism Ambassador, where she not only facilitates tourism, but also promotes the development of a unifying relationship between the two countries.
Professionally, Mushinge is a licensed real estate broker and transaction manager with experience serving Fortune 500 companies. She founded Daughters' Pride Foundation, a nonprofit organization that works to reduce poverty in Zambia, and is an ambassador for Icing Smiles, an organization that creates memories by delivering celebration cakes to children facing critical illnesses. Mushinge explained to Miss USA that her dedication to philanthropic work is a direct result of her Zambian upbringing, which taught her not to take any opportunity for granted.
The 72nd Miss USA Pageant will be broadcast live on television for the first time in nearly a decade. It will be on the CW Network from 8 p.m. to 10 p.m. Eastern/Pacific. Viewers on Pacific time should check their local listings as it will be delayed.
The winner of Miss USA will go on to represent the United States in Miss Universe in December.
Edwin Okong'o is a Mshale Contributing Editor. Formerly he was the newspaper's editor.





(1 votes, average: 5.00 out of 5)


Loading...