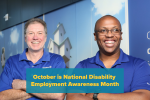 Sponsored Content from LifeWorks
Lifeworks Services shares 10 tips to create inclusive workplaces for people with disabilities.
October is National Disability Employment Awareness Month – a celebration of the contributions of workers with disabilities that emphasizes the importance of equity and inclusion in the workplace. For more than 35 years, Lifeworks Services, Inc. has worked to remove barriers and increase access to employment opportunities, leading to a more diverse workforce in Minnesota.
While National Disability Employment Awareness Month dates back to 1945, and workers with disabilities have made significant strides in the workforce, many barriers to radically inclusive workplaces persist today. At Lifeworks, we believe educating businesses, organizations, and community partners is crucial to building the accessible, equitable, and diverse communities we envision.
In honor of National Disability Employment Awareness Month, here are 10 tips to create an inclusive workplace.
Respect is the foundation: Treat individuals with a disability with the same respect and dignity you would give any employee.
Be knowledgeable about accommodations: Refrain from automatically assuming that accommodations are unaffordable. Many accommodations are affordable or free. Do not assume one accommodation will work for all individuals with similar disabilities.
Evaluate job candidates equitably: Do not assume specific jobs are more suited to persons with disabilities. Evaluate each candidate for the job based on whether they have met the employer's requirements for the job, such as education, training, employment experience, skills, or licenses.
Challenge your perceptions: Consider whether a person with a disability can perform the job's essential functions, with and without reasonable accommodation. Understand and recognize that many ways to accomplish the same task often exist.
Create inclusive applications: Ensure that application forms and other relevant information are available in alternative formats and are compatible with assistive technology for people with visual or cognitive disabilities. Ensure that the application and other forms do not ask disability-related questions.
Maintain confidentiality: Make sure that any disability-related information is kept confidential and shared only with those who need to know. Do not ask applicants about disability status during a job interview. Supervisors and managers may be told about necessary restrictions on the work or duties of the employee and about necessary accommodations.
Focus on the candidate's merit: The hiring process should focus on the candidate's merit, and hiring managers should be willing to adapt the application or interview process to the candidate's strengths.
Check your assumptions: Never assume that people with disabilities lack the necessary education, training, experience, or skills for employment or that they are unable to perform essential job functions. People with disabilities may do things differently, which could mean they fulfill their responsibilities more effectively and efficiently.
Ensure accessibility throughout onboarding: Create a virtual office tour to help new hires prepare for what they will experience to make the new environment less overstimulating. Test all training material against assistive technology to ensure accessibility. Share training materials in multiple formats like videos, written guides, etc.
Create an inclusive workplace for all employees: Create an employee resource group or mentoring program for employees with disabilities. Offer disability etiquette interviewing skills training for recruiters and hiring managers. Do not assume the staff would need additional training to work with people with disabilities. Do incorporate disability inclusion in your annual DEIA trainings for all staff.
To celebrate and honor National Disability Employment Awareness Month, read success stories of people with disabilities in the workplace on the Lifeworks blog.
Ready to take the next step towards inclusive workplaces? Click here to connect with Lifeworks and get started.
Sponsored content by Lifeworks Services, Inc.
Lifeworks has partnered with people with disabilities since 1965. Together, we drive change by increasing opportunity and access in the community.






(1 votes, average: 5.00 out of 5)


Loading...