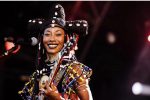 The countdown begins as October 5th nears and The Cedar presents Fatoumata Diawara, musician, actor, and advocate for human rights of immigrants and especially those of young girls in Mali, her ancestral home.
Born in 1982 in Côte d'Ivoire to Malian parents, Diawara spent her childhood in Mali. She launched her career as an actor while still a teen, appearing in 1999 in the film, Genesis, and several subsequent films. Even with the strong success of 2014's Timbuktu, a film which garnered an Academy Awards nomination, Diawara pursued a parallel career in music.
Perhaps her mad skills on guitar, of which she proclaims herself, "the first female solo electric guitar player in Mali," are also her strongest suit. Diawara has performed around the globe with international stars in a career that's spanned nearly two dozen years.
In a 2018 interview with Amy Goodman (Democracy Now!), Diawara confesses that she is self-taught on the guitar. She also composes her own music drawing on the popular genre in West Africa, Wassoulou, and adding her own style that includes blues.
Many of Diawara's songs encourage all people to embrace immigrants and welcome them into their communities and lives. Diawara herself, living now in France, has intimate knowledge of living as an immigrant.
"I want my song to give back the value, the dignity of Africa." Diawara said, talking about her 2018 album, Fenco, (Something to Say) with Giovanca on VPRO Vrije Geluiden.
Her show at The Cedar, followed by a gig in Chicago, rounds out her US tour until she returns Stateside again in spring. Tickets for October 5th, 7:30 show are available here.
Susan is based in Minneapolis and reports on general assignments for Mshale with a focus on entertainment. In addition to reporting, she is also a writer, poet, teacher and coach.





(1 votes, average: 5.00 out of 5)


Loading...