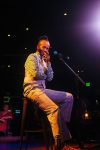 Fantastic Negrito shocked us at Mshale with the revelation that he was not the son of a Somali immigrant. He shocked himself when, during the pandemic with live performance off the table, he dug into his past and discovered that he was a child of distant immigrants and one of them was white.
Seven generations back, his grandfather was an enslaved African man and his grandmother an indentured Scottish servant.
These discoveries informed his entire show at the Dakota on October 25th where he debuted his film, "White Jesus Black Problems," and followed the viewing with a Q&A and a full acoustic set of his own songs.
When Fantastic Negrito changed his moniker from Xavier Dphrepaulezz, he couldn't have chosen a more apt name. His music truly was fantastic. His demeanor that Wednesday was raw, unfiltered, and honest, delivered with a bluntness that might be heard at a BLM protest but without the protesting tone.
Quite possibly the Dakota had never had more F-bombs dropped on stage since it opened in 1980. Yet Fantastic Negrito's contemporary language didn't detract from his performance. It gave him a credibility that he was coming from a place of authenticity and showed that he trusted his audience to get him with being offended.
His show that evening carried two messages: First, Get it Done. Despite any obstacle or legality, just get it done. And Freedom for all is still an unachieved aspiration toward which we must strive.
He marveled at and admired his ancestors, an African man and a white woman, who defied all convention and built a life together that included children. Since his 7th generation grandmother was not enslaved, the children she gave birth to were also not enslaved although their father was. He discovered these distant cousins via Ancestry.com when he came across Registered Free Negroes.
He said from the stage, "It all goes back to one word, which is gratitude. I get scared, too, but I just keep on going. Freedom is terrifying."
"White Jesus Black Problems" is like a mash-up of home-movies, Tom Petty music videos, and the MLK documentary "Montgomery to Memphis." The story, the music, and the images are compelling, worth a second or third viewing.
Considering the circumstances—a global pandemic and tremendous loss of income due to a national shut-down of people congregating, thus no live performances—the film succeeds in its mission, to tell the story of Fantastic Negrito's ancestry. He said, "If I happened to meet you walking on the street, I'd ask you to be in my movie."
The set-list from the Dakota stage:
Lost in a Crowd
Grandfather Courage
Highest Bidder
Black Girl—a song for his mother. "She was strong; she was wrong. But she was strong."
Honest Man— when he explained, "If you wanna know how your songs connect with people, you've gotta play where people don't want to hear them."
She Gets What She Wants
Bullshit Anthem/Night has Turned to Day
Son of a Broken Man—that he wrote on an airplane. He said, "Only the dreamers survive, but I picked up the pieces of my life and I survived."
Sex with a Robot in Tokyo
He ended with Virginia Soil—a song telling the story of his grandparents. "Freedom will come. I know that one day freedom will come."
The 7 pm show didn't end until 9:40. The audience didn't demand an encore because we knew he and his keyboardist, Bryan Simmons, had given us everything they had to give.
Susan is based in Minneapolis and reports on general assignments for Mshale with a focus on entertainment. In addition to reporting, she is also a writer, poet, teacher and coach.





(1 votes, average: 5.00 out of 5)


Loading...