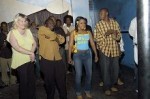 By eleven pm, DJ Kader has revelers dancing to a hot mix of African hits in downtown's Fahrenheit nightclub. This is the grand opening of the much-awaited 'Safari Lounge', an African monthly social event to be held on the last Sunday of every month. The Safari Lounge, the first African concept of it's kind, is the brainchild of Charles Dwamina of the Dwamina Group and Nathan White of Nextainment.
Mr. Dwamina tells me that the purpose of this experience is to promote African talent through live performances and internationally acclaimed musician Akon from Sen egal is among the list of African artists the duo intends to host. He also hopes that The Safari Lounge will create networking among African professionals and students and has consequently received sponsorship from African professional groups like Channel Afrique, a network of African professionals, and media African Broadcasting Network (ABN) – America. Husband and wife, Wil and Comfort and Ofori, co-founders of Channel Afrique are among those who came to witness the launch and they say that they are having a good time and are pleased with the event's turn out.
Back at the dance floor, the group L.I.B from Liberia takes the stage to perform one of their songs, 'Vlucotu' translated as 'I'm feelin' you'. When the beat starts the energetic crowd is immediately taken and though few understand the words of the song, every one is up and bumping. Jeanine, who is dancing by me, says that even though she is from Haiti she can relate to the vibrant Liberian beat.
I later on catch up with O.T, a member of the group who tells me that the initials L.I.B stand for Life Is Business. The group of four and their producer have been together for two years producing mostly hip-hop and some dancehall hits. They have opened concerts for musicians like Ying Yang twins and Pretty Ricki and hope to rise to a level where other local artists open concerts for them.
After the show many people agree that the concept is a good one and promise to bring along friends for the next event. Chris from Kenya remarks, "Such an event has been long overdue and it's time to put African talent on the map in the mainstream."
More information on the new venture can be found at;
www.thesafarilounge.com or by calling 763.458.5597 or 612.327.7783.






(No Ratings Yet)


Loading...