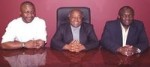 Say ABN to some of the targeted audience of this relatively new satellite network and you will draw a blank stare. That is about to change with the new marketing campaign and community outreach that the management has embarked on. A new focus and sense of purpose is easy to discern even for a casual visitor to the company's spacious headquarters in Saint Paul's Energy Park office complex.
After a low key start at Time Warner cable in Minneapolis and surrounding areas that effectively meant only a section of Africans in the Twin Cities metro area could access the programming, the station is now available nationally on the Dish Network, a development that many are unaware of. ABN debuted on Minneapolis' Time Warner Cable on March 2003 with African movies dominating. By September 2004, it was off the air at TWC and ABN's goal to reach a bigger audience got a serious boost and heralded a turning point last spring when in March, the 11 million subscriber Dish Network announced it will add the first African channel to its international programming lineup.
Mike Essien, attorney with the Minneapolis based Blackwell Igbanugo law firm, told Mshale at the company's offices that the move to Dish was necessary as "it presented more opportunities". The move to Dish Network, which is owned by Echostar could not have been more timely. J. D. Power and Associates last year awarded Dish with the highest overall ranking in customer service among satellite and cable providers in surveys it did among subscribers. J.D. Power said in awarding Dish the award last year that it got "top ratings from customers in three of the six factors that drive overall satisfaction: billing, cost of service and offerings and promotions. It also performs near the top in the remaining three factors: customer service, image, and performance and reliability."
Until recently, programming on ABN has mostly featured productions from Africa but the company has recently revamped its internal production crew and programming created by African talent in the United States is now on air and will continue to be an important part of ABN's fare according to Piso Saydee, ABN's Director of Administration who also doubles as a host on "African Film Festival", one of ABN's increasingly popular shows. Ms. Saydee was in Washington, DC recently to produce 'The African Achievement Awards' which will be airing in July. In the show, viewers get to watch interviews Ms. Saydee did of popular Nigerian actress such as Omotola Jolade Ekeinde and others like Ramsey Noah and Jim Iyke.
During an interview with Mshale, Ms. Saydee said ABN does not just feature the big names in African entertainment but gives airtime to up and coming artists. When the station launched on Dish last spring, CEO Christian Akale said the channel will be "a gathering place for the African community and their American friends." Ms. Saydee to realize that and as a first step a community bulletin which gives the community an outlet to get the word out on what is happening for free has already been implemented and is an integral part of the network's operations.
As competition has heated up among satellite and cable providers, they have also been busy adding programming to cater to the 32 million immigrants in the country. It is considered an undeserved segment and a niche market yet to be fully tapped. None of them however give numbers as to the number of people subscribed to the international packages they offer. African Broadcasting network would not divulge numbers either.
ABN company is also seeing growth among its ranks. It now has ten hired staff ranging from master control technicians, editing staff and administration staff. Programming is up linked from its offices in Saint Paul which houses both the corporate and technical staff. To demonstrate how serious the company is in getting premium programming, it just recently secured rights to the Africa Cup of Nations for the US market. A marketing campaign is also underway to sign up subscribers and community gathering places such as cafes and community centers to get the service.
To get the channel, one has to purchase Dish Network's Super Dish antenna even if they already subscribe to Dish but do not have the special antenna.
An ABN flyer lists the charge for the Super Dish at $49.99 which gets refunded in the first bill. The monthly fee to get ABN-America A-La-Carter is $14.99.
Details on how to subscribe to the service can be found on ABN's website at ww.abnamerica.com or by calling Dish Network at 1-866-267-7805.
In other ABN news as we went to press, Saint Paul mayor, Randy Kelly, was scheduled to grand open ABN's headquarters on July 6. On Saturday, July 9 starting at 7PM, a night of dining and dancing with African stars will be held at the upfront Event Center in Brooklyn Center to celebrate the launch in the Twin Cities.

Born and raised in Kenya's coastal city of Mombasa, Tom is the Founder, Editor-in-Chief and Publisher of Mshale which has been reporting on the news and culture of African immigrants in the United States since 1995. He has a BA in Business from Metro State University and a Public Leadership Credential from Harvard's Kennedy School of Government. He was the original host of Talking Drum, the signature current affairs show on the African Broadcasting Network (ABN-America), which was available nationwide in the United States via the Dish Network satellite service. On the show, he interviewed Nobel laureates such as 2004 Nobel Peace prize winner, Professor Wangari Maathai, the first woman from Africa to win the peace prize and heads of states. Tom has served and chaired various boards including Global Minnesota (formerly Minnesota International Center), the sixth largest World Affairs Council in the United States. He has previously served as the first Black President of the Board of Directors at Books for Africa. He also serves on the boards of New Vision Foundation and the Minnesota Multicultural Media Consortium. He has previously served two terms on the board of the United Nations Association. An avid runner, he retired from running full marathons after turning 50 and now only focuses on training for half marathons.





(No Ratings Yet)


Loading...