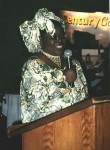 Nyango Melissa Nambangi, founder of the Minnesota African Women's Association (MAWA) received the Women's of Distinction award from
Century
College
on December 8, 2005. She and two other women are the first to receive the recently established award.
The award according to
Century
College
was developed to celebrate the fact that more women gain access to higher education through community/technical colleges than through any other type of post-secondary institution. The college sought nominations from the community to honor women who have demonstrated accomplishments in their fields of expertise, have a record of working to increase opportunity and equality for women or girls and have an appreciation of the value of community/technical colleges.
The other two receiving the award were Marian Bemis Johnson and Ann Schrader. Bemis Johnson is a woman sports historian in
Minnesota
and has co-authored a book called "Daughters of the Game." A former instructor at
Stillwater
High School
,
Hamline
University
and the former
Lakewood
State
Junior College
, she developed the women's intercollegiate athletic program at
Lakewood
. In the early 1980s, she received the Outstanding Faculty Award from the
Minnesota
Community College
system. She retired in 1987. Ann Schrader is the chief operating officer of HealthEast Care System.
Melissa Nambangi founded MAWA to provide a forum for African women to network, address the challenges of making a home in
Minnesota
, and provide a venue for women to share and connect with community resources. Recent initiatives of the group include a program for African girls ages 9 to 18, a college preparation program for junior and senior high school girls from low-income immigrant and refugee families, and a training workshop for African girls designed to encourage political participation.
The Women of Distinction awards are sponsored by
Century
College
, the Century College Foundation and the Century College Women's Studies Department.





(No Ratings Yet)


Loading...