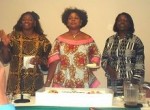 The first lady of Zambia told an audience in Oakland, California that her nation's economic and political development will ultimately depend on investment by Zambians themselves, including those living and working in the U.S. and other foreign countries, far more than multinational corporations or western nations.
Maureen Mwanawasa told a crowd of more than 100 at the Marriott Hotel, mostly Zambians, some of whom traveled from as far away as Atlanta that the country was especially in dire need of their help to care for children whose parents died of AIDS related diseases. She also asked them to return to Zambia and invest in small businesses.
"Come back home," Mwanawasa pleaded with the audience in a sweltering meeting room.
Nearly 64 percent of Zambia's 10.5 million people live on less than $1 a day and 87.4 percent live under $2 a day, according to the United Nations Human Development Reports. Eight-three percent of the rural population and 56 percent of urban dwellers are poor.
Prior to 1970 Zambia had one of the strongest economies in Africa, with its per capita income second only to South Africa. The economy began to decline later in the decade when the prices of copper, the backbone of its economy, fell sharply and oil prices soared.
The rate of poverty has tremendously increased because of AIDS, which has lowered the country's life expectancy below 38 years. Only two percent of the world's population resides in Southern Africa but the region accounts for 30 percent of people living with HIV worldwide. There are 920, 000 people infected with HIV in Zambia—almost as many as the number of cases in the U.S, which is just over a million, according to Centers for Disease Control. Zambia's 630,000 AIDS orphans are left in the hands of grandparents and other volunteers who have little or no source of income.
Mwanawasa outlined a few successful income-generating programs that she said took very little to fund and has helped ease the burden on those caring for orphans. They include The Goat Project, where her non-profit organization, Maureen Mwanawasa Community Initiative gives 25 goats to community clubs on condition that they pass on to another club the first 25 goats born. They then sell descendants of the remaining goats to meat companies.
The project, which started with 17 clubs funded by grants from Zambia's Food and Agriculture Organization and Common Market for Eastern and Southern Africa (COMESA), has 166 clubs, Mwanawasa said. This approach works because it does not require members to put security deposits for the loans, she said.
"The only collateral these people have is poverty and trust," she said. "All they need is a little push."
Mwanawasa asked Zambians abroad to be "good ambassadors" of their country, and to be optimistic about the future. Zambia's economy was growing rapidly and the government was working hard to decrease poverty, she said. The country had also increased its food production to a point where it could export the surplus, she said.
While acknowledging that corporations create jobs for people that have no source of income, Mwanawasa said their main objective is to make profits. Only Zambians can make their country what they want it to be, she said.
Though ambitious, Mwanawasa's plan is likely to be impeded by the fact that the number of Zambians abroad may not be enough to make a significant economic difference. The 2000 census does not indicate how many Zambians live in the U.S, but immigration statistics show that 945 Zambians became U.S citizens or permanent residents in 2003 and 2004.
In response to the first lady's speech, many in the audience said they were pleased with her commitment to ending poverty in Zambia.
"It is good to see a first lady involved in grassroots organization," said Patrice Binaisa, a Berkeley resident from Uganda. "She seems to be in touch with Zambia."
Malawi-born Leya Kamwambe, who spent four years of her childhood in the 1980s in Zambia, said Mwanawasa portrayed a different country than the one she knew then.
"I have been assuming things were getting worse," she said.
Kamwambe said in the 1980s Zambians relied on food purchased from stores, unlike Malawians who grew most of their food. It was good to see them change that tendency, she said.
Macdonald Longwe, the president of ASOZA, an Atlanta-based support group for Zambian orphans, said he agreed with Mwanawasa that Zambians abroad were capable of ending poverty. But he said that because of opportunities that exist in the U.S, Zambia would be better off if its citizens stayed and sent money home.
"We still want people here."
Edwin Okong'o is a Mshale Contributing Editor. Formerly he was the newspaper's editor.





(No Ratings Yet)


Loading...