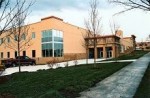 The grand opening celebration of the Greater Minneapolis Council of Churches' new Center for Families will take place Feb. 12, 2006. The public is invited.
The 19,000-square-foot facility — located on the campus of
Fellowship
Missionary
Baptist
Church
in
North Minneapolis
— will house services such as language classes, job training, health screenings and referrals, mental health services, adult basic education, and many others. It is designed to help families plant strong roots in the community and will serve all families, with a special focused outreach to West African immigrants.
The grand opening celebration will take place at
3333 4th Street N.
in Minneapolis between 2 p.m. and 5 p.m., with a program at 3 p.m.
Tours
of the new building will be offered as well as refreshments. Rev. Albert Gallmon, Jr., Fellowship Missionary Baptist Church, will speak and the day will feature the world premiere performance of We, Too, Rise, an original choral anthem commissioned by GMCC to celebrate its 100th Anniversary of uniting people of faith to serve people in need.
Emmy-Award winning composer, Steve Heitzeg, has written the anthem which will be performed by the
Fellowship
Missionary
Baptist
Church
choir, under the direction of Sanford Moore, and the Sakerettes Choir, composed of alumnae of
Saker
Baptist
College
in
Limbe,
.
The anthem is taken from the Reverend Dr. Martin Luther King, Jr.'s Letter from a Birmingham Jail, in which King responds to eight
Alabama
clergyman who had labeled his demonstrations as "unwise and untimely." King responds: ". . . the time is always ripe to do right."





(No Ratings Yet)


Loading...