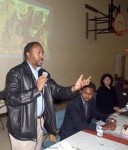 Several dozens of African immigrants, mostly Somalis, gathered at a packed basketball court inside Brian Coyle community center near Riverside high-rises in Minneapolis on Sunday, January 16, for a fund-raiser event aimed to help the drought-stricken East Africa, especially
Northeastern Kenya
– a region mostly inhabited by ethnic Somalis.
In just over three hours, $30,000 was collected in an-auction-style fund-raiser.
The event was organized by Generations for Change and Growth – a non-profit organization geared towards eradication of deadly diseases and illiteracy in East Africa, particularly .
"People can do a lot if they work together "said Adam Mohamed, an attorney with Hennepin County and chief organizer of the event "It is not only us who is trying to help Northeastern Kenya; the international community is helping and Kenyan government has declared state of emergency in that region"
Speaking at the event, Barbara Raye, the executive director of the Center for Policy, Planning and Performance, which maintains an office in
Nairobi,
, said that she is pleased to witness ordinary people doing extra-ordinary things.
Among several religious leaders who reiterated the importance of extending a hand to the-less fortunate Muslims was Imam Hassan Mohamoud (Jaamici), an immigration attorney with Legal Aid Minneapolis and renowned fund-raiser for the Muslim community.
His fund-raising tactics seemed to be resonating well with the audience who were responsive to his often super-ambitious quest for a big donation. First five people raised hands to pledge $1,000 each and 10 more people for $500 each. Imam Mohamoud was, in turn, going for a smaller amount as he collects more, until almost everyone in the audience seemed to have pledged at the-$100 category.
An estimated 2.5 million people in
alone are affected by the "worst drought" in years according to the World Food Program (WFP). In an appeal issued mid January, WFP says that total of 5.5 million people throughout the region are at "risk of humanitarian catastrophe" if 59,000 tons of food is not delivered expeditiously.
Efforts to provide aid for the needy in the region were severely hampered by a recent upsurge in piracy. WFP and other humanitarian agencies have been transporting food and medicine by land – a process that is very slow and very pricey.
The disaster is expected only to worsen, according WFP, which itself is drying out of assistance in February if it is not replenished by international donors.
Organizers of the event say they hope to raise the awareness of the community so that they can entice others for support.
That 'others' may have already been enticed. Susan, a-13-year-old student at South High was solicited by her friend and classmate, Najma, also 13 years old. At a mini-fund-raiser at their school, the pair successfully collected over $300.
Another head-covered unnamed woman also said that she and two other teenage volunteers were busy knocking doors at
Riverside
high-rises and going door-to-door at the Village Mall, a nearby bazaar mainly occupied by Somali merchants.
Economic Impact
's Central Bank warned that the drought hitting
Northeastern Kenya
may collaterally slow the economy and prompt inflation. But Kenyan government anticipates economic growth of about six percent this year.
The East African region has been suffering from civil wars and abject poverty for over two decades.

Abdi Aynte was a news reporter for Mshale in his early journalism years. After a stint at Mshale, he moved on to the BBC, Voice of America and eventually relocated to Doha to join Al Jazeera. After leaving Al Jazeera, Aynte moved back to his homeland of Somalia to become the first Director of newly formed non-partisan Heritage Institute for Policy Studies (HIPS).





(No Ratings Yet)


Loading...