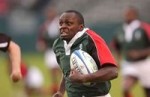 The South Africans and Kenyans return to Los Angeles' Home Depot Center Stadium on Feb. 11 for the 2006 U.S.A Sevens Rugby Tournament, an event that past attendees say also serves as reunion for many citizens of the two African countries. 
"It's like a big festival and wild in a good way," said Dickson Thirima of Los Angeles-based True Blaq Entertainment, one of the companies organizing entertainment events for the thousands of African rugby fans expected to attend. Thirima said he arranged for Kenyan musicians, among them singer Mercy Myra, to entertain event goers.
The annual tournament, which began in 2004, features 16 national teams of seven players a side. and are the only African countries that have participated in the tournament. Every year thousands of Kenyans and South Africans come from as far away as the East Coast to support their teams. Many fans come to town as early as three days before for nights of parties and social events.
For some who have had the opportunity to attend previous competitions, the tournament is something they vow to go to every year.
"I felt like I was in ," said Njoki Kinyua, an Oakland resident who came upon the 2004 tournament while in
Los Angeles for different matters. Kinyua said while at the event, she ran into old friends she hadn't seen since high school in , more than eight years earlier. She admired the fact that Kenyans and South Africans cheered for their teams in ways she had not experienced before.
"It was so amazing to see all Kenyans patriotic and united regardless of where in they're from," Kinyua said.
Peter Walker, a South African who owns Springbok Bar and Grill in
Long Beach , and hosts his country's team every year, said that South Africans go to the rugby event more for the love of the game than to socialize. "South Africans are as crazy about rugby as Mexicans are about soccer," Walker said on a telephone interview from
Los Angeles .
South Africa is ranked number two in the world, according to the International Rugby Board, the international governing and legislative body of the game of rugby. IRB ranks Kenya at number 38.
Edwin Okong'o is a Mshale Contributing Editor. Formerly he was the newspaper's editor.





(No Ratings Yet)


Loading...