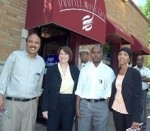 Amy Klobuchar believes that Americans are tired of the legend of lies from Washington and the policy fiasco on sensitive issues like Energy, Health Care and the Iraq War. She contends that Americans need change and real leadership to protect their core values and bring the interests of the many in front of those of a few.
She said the Republicans had let the American people down by promising that they would leave no child behind and yet many millions of children have. Their pledge for affordable health care has only delivered Medicare Part D; and the nation had been totally unprepared for national disasters like Katrina with images of desperate families on top of roofs for three days without help. Tuition in Minnesota has gone up in seven years by 81 percent making college education tough to get for hard working middle class American families.
As Chief Prosecutor of Minnesota's largest county over the last seven years, Amy has worked with police and neighbors to reduce serious crime by 20%. She also served as Minnesota's President of County Attorneys and was the chief advocate for new laws protecting seniors, pursuing identity thieves, tracking down child pornographers, and guaranteeing new moms and their babies a 48-hour hospital stay.
Speaking to community leaders at Profile Café along University Avenue in Minneapolis on Saturday May 27, Amy pledged that in the race for Minnesota U.S. Senate Seat following Mark Dayton's decision not to seek re-election, she is sure of beating the Republican candidate Mark Kennedy. The Republican candidate is trailing 8 points behind her according to the latest poll of the Wall Street Journal.
She said in spite of Republican heavy weights supporting Kennedy's campaign, her grass-root support that had only involved one national star Barack Obama, she believes that at the end of the day, Kennedy would be riding a "slow-moving zamboni." She said she was appealing for support from Minnesotans because she was confident about winning the race. Her campaign had two energetic young ladies, Nimco Ahmed of Somali origin and Semonti Mustaphi whose parents hail from India.

As Minnesota's Senator, Amy Klobuchar promised to deliver on the following issues: make social security a guarantee, return fiscal discipline to Washington, work for a secure country and safe communities, work for universal health care, strengthen economy with good paying jobs and reduce dependency on foreign oil.
Amy's grandpa Mike worked as a miner in Ely's Zenith Mine, her mother Rose was a second grade teacher, and her father Jim was a newspaperman. Amy grew up in the Twin-Cities suburb of Plymouth in a house where her mother still lives. She went to Yale College and the University of Chicago Law School and was elected Hennepin County Attorney in 1998 representing one quarter of the state's population. In 2002, she became President of Minnesota's County Attorneys. She believes in hard working American families and tax fairness.
Asked what she would do for Africa if elected Senator, she replied: "I believe that we have to have a very good relationship with Africa. Africa is part of our future and we are part of Africa's future. That means we are giving aid to Africa to help combat disease, to modernize the countries and we have so many good relations now particularly in Minnesota where we have so many people from Africa who have settled and built their lives here. So I want to continue that good work that Bill Clinton started to have those good relations between our two continents."
Bill Clinton is remembered for passing through Congress the Africa Growth Opportunity Act (AGOA) that allows sub-Sahara African countries to export their products to the U.S. market duty free and quota free.
Amy Klobuchar also took issue with the two Somali taxi drivers who were brutally murdered in Minnesota and she pursued the killers who were prosecuted and are now serving their prison terms.
She supports the Senate Bill on immigration reform but not the House Bill, maintaining that those immigrants who are hard working and paying taxes should be supported to achieve their American dreams.
On the controversial subject of same sex marriage, she said: "I favor some kind of civil union, but I do not favor same sex marriage. I believe that you should not discriminate against people, but if people have been in a relationship they can visit their loved ones in hospital, they can pass things on to them and you can do that legally by having civil union without having same sex marriage."
Amy promised to fight to restore equity to our national tax policy by closing the corporate tax loophole that allows big business to set up "paper" headquarters overseas to avoid paying their fair share of taxes. She said she would fight for tax policies that help the middle class.
While acknowledging that in her campaign there are many unfixed problems and missions that are not accomplished under the current Bush administration, she does not intend to wage a negative campaign. Rather while making the case of what is going on in Washington, she will also make the case for her Democratic Party's progressive agenda and "for me that means affordable universal health care, energy independence, changing course in Iraq and our foreign policy."
Community leaders mainly from Africa who attended the meeting cheered her enthusiastically and even addressed her as their next Senator as they were sure she would receive the DFL endorsement and win this race against the Republican contender Mark Kennedy.

Swallehe Msuya was a senior staff writer at Mshale with extensive media experience in his native Tanzania. He was a general assignments writer. Investigative stories that Mshale undertook were normally his responsibility. Swallehe passed away in Sept. 2009 at the age of 61. Mshale will forever miss his tenacity and wisdom.





(No Ratings Yet)


Loading...