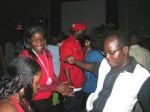 NEW YORK, September 3 – The ad on the Uganda North America Association's Web site was enticing. For $95 it promised this year's convention goers a luxurious cruise around New York with plenty of food and live performances by some of Uganda's most loved artists like Juliana Kanyomozi and Chameleon.
But when the time came, it was Mother Nature who had the final say. The cruise ship did not move an inch due to heavy rains that descended on New York yesterday.
"It was a mess," said Joan Kayongo, a Waltham, Mass. resident.
The bad weather did not alter the spirits of those on the cruise. There was plenty of food and dancing, according to those who attended.
"It was nice to see everybody have a good time despite the bad weather," said Jimmy Ndawula of Silver Spring, Md.
The festivities continued when those on the cruise reunited with the rest of the attendees in a Marriot Hotel ballroom. Sizzling performances by Kanyomozi, Bobbi Wine, and others kept people on their feet until after 3a.m.
Images from the UNAA convention are updated daily and are available in the GALLERY section of mshale.com
Mshale coverage of the 18th UNAA convention is made possible by Kampala Wire.
Edwin Okong'o is a Mshale Contributing Editor. Formerly he was the newspaper's editor.





(No Ratings Yet)


Loading...