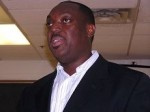 Mr. Izooba Mugabi is the new chairman of the Uganda Association of Minnesota (UGAMN). He emerged the winner after easily trouncing his only challenger, Mr. Francis Ssenoga, by garnering over 64% of the votes cast during a general assembly meeting to elect new leaders. All seats were up for grabs. Mr. Ssenoga is the current secretary general of the Uganda North America Association (UNAA). UNAA is the national association for Ugandans in North America.
Over 100 people packed into a classroom at the Brooklyn Park community center today to listen to the plea for votes from the contestants before voting got underway. Outgoing chairman, Mr. Peter Mudima, reading from a sheet given to him by the randomly selected election officers said a total of 109 people participated in the elections.
The closest race was that of vice chairman where Mr. Victor Lukandwa, a software engineer, staved off a challenge from Ms. Allen Kiberu to emerge the winner. He garnered 65 votes to Ms. Kiberu's 45. Ms. Kiberu was the only woman who offered herself for any of the seats and there was a noticeable disappointment in the hall when she did not prevail.
The race that provided some comic relief for members was that of treasurer where the two candidates, Mr. John Mutyaba and Mr. John Kiiza did not shy away from addressing each directly as they offered their differing approaches to the treasurer's post.
Mr. Mutyaba, a certified public accountant and a senior insurance systems audit manager with the state of Minnesota was unable to win favor with the electorate with his promise of upgrading the accounting system. Instead, the members clicked more with Mr. Kiiza, a Registered Nurse who works in intensive care at a local hospital. They handed him a lopsided 62% of the vote. Talking to this reporter after being declared the winner, he said while he is not technologically savvy, he is supportive of establishing an electronic database of all members in an effort to provide better services and accountability.
Rounding up the cast of new leaders is the new secretary-general, Mr. Conrad Nviri who easily whipped a late entrant to the race, Mr. Peter Musimami. Mr. Nviri received 63% of the votes cast for treasurer.
Mr. Izooba, in an interview following his victory said it is a new day for Ugandans in the state "as they will see results", he said. During his campaign, he had said his main focus will be on building a strong UGAMN before spending any energy on the national body (UNAA). Mr. Izooba, who is also CEO of Kampala Wire, a startup money transfer company, had said earlier that he would recommend all committees within UGAMN have representation from all age groups which will foster the formation of a common vision among the many generations of Ugandans here. This will also help in the design of appropriate community events that everyone can enjoy, he claimed.
A common thread running through all the candidates' speeches, was the general feeling that Ugandans in Minnesota have not maximized their full potential, and have yet to organize effectively as other African communities in taking advantages of the opportunities and resources at their disposal. The new leadership will serve for two years.
Meanwhile UGAMN will hold its annual Independence Day gala and dinner to celebrate Uganda's 44th year of independence. This year's gala will also serve as a fundraiser for Gulu Walk. Gulu Walk is an initiative aimed at helping those in Northern Uganda especially the children affected by the civil war that has raged in that region. Gulu is a region in Northern Uganda.
Visit the Gallery section of our website for more pictures from the elections.

Born and raised in Kenya's coastal city of Mombasa, Tom is the Founder, Editor-in-Chief and Publisher of Mshale which has been reporting on the news and culture of African immigrants in the United States since 1995. He has a BA in Business from Metro State University and a Public Leadership Credential from Harvard's Kennedy School of Government. He was the original host of Talking Drum, the signature current affairs show on the African Broadcasting Network (ABN-America), which was available nationwide in the United States via the Dish Network satellite service. On the show, he interviewed Nobel laureates such as 2004 Nobel Peace prize winner, Professor Wangari Maathai, the first woman from Africa to win the peace prize and heads of states. Tom has served and chaired various boards including Global Minnesota (formerly Minnesota International Center), the sixth largest World Affairs Council in the United States. He has previously served as the first Black President of the Board of Directors at Books for Africa. He also serves on the boards of New Vision Foundation and the Minnesota Multicultural Media Consortium. He has previously served two terms on the board of the United Nations Association. An avid runner, he retired from running full marathons after turning 50 and now only focuses on training for half marathons.





(No Ratings Yet)


Loading...