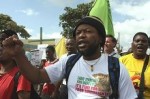 NAIROBI – The curtains finally fell on the seventh edition of the World Social Forum in the Kenyan Capital of Nairobi with a new transsexual phenomenon, gaining root in Africa.
The forum that ended on January 25 saw the lesbians, gays and trans-sexual community gaining currency not only in Kenya but also in the entire African continent.
All eyes focused on the groups that have been for a long time conducting their business secretly.
But at the WSF, they came up openly, stealing the show, as they demanded for their 'rights'.
The lesbians and gays joined their counterparts from all over the world and had a tent adjacent to Gate 7, at the forum's venue, Moi International Sports Centre Kasarani, about 15kilometers North of Nairobi city.
And as a sign of friendliness, it was at their stand only that visitors were welcomed with a cup of tea and cookies.
They were then invited for lessons on lesbianism, gay relationships and transsexuals. The bisexuals and transsexuals are now in the warpath to agitate for an end to discrimination and recognition by the constitution.
On the other hand, the forum that was attended by more than 10,000 delegates from around the world, gave a significant prominence to issues affecting ordinary people and it helped put African issues on the international agenda.
Key international Icons, among them retired Zambian President Kenneth Kaunda, Mary Robinson, Dr Salim Ahmed Salim, Winnie Mandela, Archbishop Desmond Tutu, six ministers from Brazil, Kofi Woods, Liberian Minister for Labor, artistes Oliver Mtukudzi and Yvonne Chaka Chaka graced the event.
One of the main goals of the conference was to empower ordinary people in the developing world.
Issues on human rights dominated the conference, which saw several recommendations, and action plans by the delegates sail through.
Seven topics on human rights abuses and ways of intervention were discussed.
With Kenyans facing a presidential election at the end of this year, Kenyan human rights activists vowed to put a solid agenda on the table of political parties with ethnic agenda.
A civil society from France also proposed a taskforce for human rights in situations of conflict are set up.
On the other hand, members of the clergy were asked to take women's rights and violation to the pulpit.
The activists proposed that scientists should be hired to educate women and men on and reciprocal respect.
Human rights advocates from the South indicated that they will need the support of their counterparts from the North if their fight for social justice if at all it has to make impact.
The caucus was able to match effects of social rights and WSF which included women and peace, terrorism, armed conflicts, land rights in relation to women, and religion.
During the opening ceremony participants gathered in Kibera, an area that hosts Africa's largest slum, who walked through Kabarnet road, Ngong road, Haile Sellassie Avenue, and later converged to Uhuru Park.
On the eve of the closing ceremony Nobel Peace Laureate Prof Wangari Maathai led participants in a walk to several designated areas to plant 100,000 trees.
Kenya's sports personalities Paul Tergat-of the long distant marathon fame-graced the closing ceremony as he led delegates in a run across Nairobi's Korogocho slums.
The fact that the forum took place in Africa is indeed historic. Being the first conference in Africa and where these issues were discussed, the Seventh Edition becomes a landmark in the history of the WSF.
Ms Wahu Kaara one of the conference's organizers says committee member of the forum's organizing secretariat said it was a chance for Africa to provide solutions and not just be seen as a problem.
"Africans are also global citizens and this is a chance for Africa to be seen as a continent of hope and not despair," she says.
The Forum, she says was not to capitalize on Chief Guests but was out to change the world into a better place.
Civil societies in Africa took the centre stage to agitate for debt cancellation. They want, starting from now, all illegitimate debts to be cancelled unconditionally. They also want African and other countries to start negotiations with donors and explore different modalities of dealing with debt issue.
The forum was an open space for ordinary people to get a platform to reflect, think, generate democratic ideas, formulation of proposals, free exchange and interlinking for effective action by groups and movements opposed to a world dominated by capitalism and any form of imperialism.
It is why the gay and the lesbian communities took the centre stage to agitate for what they termed as their 'rights' that had been deprived off them.
It's at the conference where it also emerged that one is born a transsexual.
It also emerged that the number of bisexuals and transsexuals in the country was rising.
The bisexual community regretted that they faced discrimination in society including being disowned by their families, beatings and rape.
"A homosexual person is just like any other normal person and we want our rights and dignity upheld at all times," says Joseph Njenga, who confessed publicly that he was gay.
Also high on the agenda was the issue of HIV-Aids, Women's issues, privatization of common goods, the landless, peace and conflict among others considering that Somalia and Ethiopia are in direct conflict at the moment.
"Africa through the forum showed that powerlessness is power in itself. It will be a time to reclaim humanity from the cradle," says Wahu.
On gender equity, for instance, several recommendations were made. It was proposed that the WSF steering committee be composed of women and men on 50/50 ratio.
It was proposed that women in conflict regions be guaranteed rights, including citizenship, to enable them function properly.
The women demanded that the least half of the delegates at the next social forum should be women with a third of them represented at the decision making committees.
Slum dwellers and those living in informal settlements were not left behind. Forced evictions became the focus of debate and gave impetus on the need to improve the standards of living of many people as a basic right.
An estimated 20, 000 participants also took part in a symbolic 30km marathon race from the Korogocho slum area in the eastern part of the city to Uhuru Park in the heart of Nairobi's city centre.
The race was flagged off by the world marathon record holder Paul Tergat of Kenya and drew participants from all walks of life, including the church, the slums, civil society and a few politicians. However, Ndereba, who is the four-time Boston marathon champion, who was scheduled to jointly flag off the race with Tergat, did not turn up.
The runners, donning mainly black and white T-shirts, assembled at St Johns Catholic Church in Korogocho in the wee hours of the morning to await the arrival of Tergat, who is also a goodwill ambassador of the World Food Programme (WFP). At Uhuru Park, where the closing ceremony took place, the participants danced to a mixture of tunes for several hours.
A few guests like the Kenyan Nobel Laureate Prof Wangari Maathai, the Italian Vice Minister for Foreign Affairs and Patricia Centinelli said the WSF was a great success.
"There are people here who came with nothing but now they will go home inspired. They will do something for themselves instead of complaining. When you are working with the poor, you get discouraged. But that changes when you meet with others who face the same challenges you are dealing with. Then you know you are not alone," said Maathai.
The Italian Vice Minister said it was the responsibility of all governments to provide water, food and land to the people. "We should take advantage of WSF to say to all Governments that they must be serious in solving problems facing man kind," Said Patricia Centinelli. The speeches were followed by more song and dance, before the ceremony official got underway, during which at least seven prizes were given out.
At Korogocho, the enthusiastic participants mopped Tergat, chanting in Swahili Tergat wetu, (Our Tergat) and trying to emulate his running skills.
"We decided that the marathon should begin from the slums, for the sake of those living in there. We want to show them that we are part of them and they can come out of the slums and do some positive work out there," said Tergat, who addressed the press just before he flagged off the run.
Tergat regretted that slum dwellers were being discriminated against and blamed for many of the bad things in society, sometimes very unfairly. "This is because they don't have the opportunity to fully and freely enjoying their rights like other people. They also don't have a voice, which is exactly the reason for our choosing to be here today. We want to show them that everything is possible if they build their confidence and believe in their future," he said.
The meeting brought together two hundred women from different parts of the globe to deepen the intensive dialogues on feminist perspectives and strategies in addressing fundamentalism, militarism and neo-liberal globalization.
One of the women participant said "women believe they are poor, they can't contest in politics, yet they forget that to achieve anything, you must build confidence in yourself".
Mama Koite Doumbia from the Mali, who is also the chairperson of FEMNET gave her experience how some of her member couldn't contest for the presidential seat, "one of them was told, you names as nominees will be put at the bottom and for us to consider your nomination you have to pay".
Visit the Photo Gallery for more pictures from the World Social Forum in Nairobi.
Khamala Otieno is Mshale's correspondent in the East African region. He has extensive experience working with the leading dailies in East Africa.





(No Ratings Yet)


Loading...