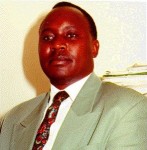 Dr. Shem Ochuodho is this year's winner of the prestigious Kenya Community Abroad (KCA) Award for Excellence. Ochuodho has been honored for his exemplary efforts in the Information, Communication and Technology industry (ICT). His work as an IT professional was significant in ushering in the current wave of information technology in Kenya. Kenya Community Abroad is a group that represents, as the name implies, Kenyans residing overseas. It was a leading voice among those who called for the opening up of the political space in Kenya under then president Daniel Arap Moi. KCA president, Mkawasi Mcharo, made the announcemnt in a press release on Tuesday from Washington, DC where she is based.
He has also made outstanding contributions in Rwanda where his work has brought that country to international limelight with regard to its advances in ICT. He is currently the ICT Advisor to Rwanda's Minister of State in charge of Energy and Communications and past CEO of the Rwanda Information Technology Authority (RITA). Ochuodho will be presented with his award at KCA's tenth anniversary celebrations which will be held in Delaware, July 6th to 8th 2007.
The KCA statement said "The award-wining candidate is elected from a list of esteemed persons nominated and campaigned for by KCA members. The process elicits informative discourse on worthy leadership and brings to the fore the trimmings of exemplary citizenship that inspire and transform. It culminates in the election of one whose extraordinary efforts have contributed to significant development in our society. The nominees are picked from any profession or social engagement."
This year, the list of nominees included Hon. Njoki Ndung'u, for her outstanding effort in introducing the historic Sexual Offences Bill and ensuring its signing into law; Hon. Raila Odinga for his persistent fight for democratic space; Bitange Ndemo and Hon. Mutahi Kagwe for their efforts in setting down enabling government policy that now ushers in competent information technology infrastructure; and H.E. President Mwai Kibaki, for leadership that has brought on the revival and continued rise of Kenya's economy.
KCA celebrates its tenth anniversary during its annual conference in Delaware in July 6-8 of this year. It is at this conference that the award to Dr. Ochuodho will be presented. Past awardees include:
1997 – Vitalis Musebe and Isaiah Kabira for their high standards of professionalism and sacrifice in covering the SABA SABA brutalities of 1997 while working for the Kenyan Television Network (KTN).
1998 – Police Inspector, Joel Kipkemboi Sang the Jogoo-Road based traffic policeman for his impartial and fearless enforcement of the rule of law, amidst reckless disregard of the same within the police force and across the entire spectrum of the Kenyan leadership.
1999 – Mr. James Orengo for his consistency in championing the rule of law and promoting democracy while Kenya struggled through the transition to multiparty politics.
2000 – Professor Kivutha Kibwana, for his efforts and clarity in informing and entrenching the structure for constitutional reforms in Kenya.
2001 – Professor Wangari Maathai, for her dedication to Kenyan people in the struggle for justice, equity, fair play and protection of the environment.
2002 – Hon. Charity Ngilu, for her exemplary role in the
transformation process that brought about the peaceful change of power in the 2002 elections.
2003 – Ms. Asunta Wagura, Executive Director Kenya Network of Women with AIDS (KENWA), for her heartfelt and open fight to restore dignity to HIV-AIDS infected persons.
2004 – Mr. Hezekiah Nyaranga for his selfless work in feeding, schooling and providing emotional support to orphaned children in Kisumu through the Reachout Centre.
2005 – Mr. John Githongo, for his whistleblowing efforts that exposed high-level corruption in Kenya and in the process catapulting the fight for economic justice and political accountability.
"It is with deepest pride that KCA adds Dr. Shem Ochuodho to the above list," Ms. Mcharo said in her statement.






(No Ratings Yet)


Loading...