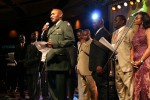 The new president vows to work with his deputy, who ran a campaign against him.
SAN FRANCISCO –Lt. Frank Musisi, a U.S. Army Reserve from Los Angeles, Calif. claimed the presidency of the Ugandan North American Association Sunday, handily defeating incumbent Abdul Kimbugwe of Boston, Massachusetts, and narrowly surpassing challenger Moses Wilson, also from Los Angeles by a mere 10 votes.
Musisi garnered 242 votes against Wilson's 232. Kimbugwe, the incumbent, received 109 votes, while Sophia Anyomokolo, the fourth candidate and the only woman in the race, got a paltry eight votes.
Musisi ran the most spirited campaign of any candidate, with a visible pack of supporters soliciting votes with placards and postcards outlining his platform throughout the weekend. But in his victory speech, the new president described himself as "non-political."
"I do not subscribe to any political party from Uganda or the United States," Musisi said. "Our work is to help our brothers and sisters in the community in North America, and this is what we're going to do."
Musisi then called upon the audience to contribute to a collection being held to allow the body of an uninsured Ugandan reverend who recently died in Los Angeles to be sent home for burial.
"I believe, as the new UNAA president and our board, it is appropriate for us to start from this gathering here to mobilize funds to help our brother be taken back home."
He concluded his remarks by extending an olive branch to Moses Kalemba, the new UNAA vice president, who had campaigned alongside Musisi's rival, Wilson.
"I am so happy that I am going to be working with our senior member, Mr. Moses Kalemba. I know his wise counsel will guide us in the next two years," Musisi said.
The brevity of Musisi's 10-minute speech was heartily welcomed as the banquet in the grand ballroom of the San Francisco Hyatt Regency Hotel stretched on towards midnight. The event was more than three hours off schedule, prompting some to joke that the event was keeping Africa time.
The poll results, announced by UNAA Electoral Commission chairman Alexander Zabasajja of New Jersey, returned Treasurer Brenda Kalema to office. The incumbent Secretary Francis Ssennoga ran unopposed.
The closest contest saw Felix Kabuye-Kayanja defeating Becky Wamala-Brown by only seven votes to become the next Board Member at Large. Henry Nsereko was reelected in a tight race for Board Member,Uganda.
Zena Mbega and Moses Male ran unopposed to become Youth Board Members, as did John Mutyaba for Board Member, Central.
Ronnie Mayanja was chosen to represent the Eastern region, and Julius Kabukuru, the Pacific.
The position of Board Member, Canada was left vacant.
the Vice President of Uganda, Gilbert Bukenya, and other ministers and dignitaries who attended the three-day conference congratulated the new UNAA president. Once all the election results had been announced, Bukenya led the crowd to the dance floor.
Musisi was a member of the UNAA board from 2003 to 2005 and was on the convention committee when it was held in Los Angeles in 1994. He was born in the Bumangi Ssese Islands, in Uganda's Kalangala District, and immigrated to the United States in 1990. He holds a degree in Information and Computer Science from the University of California, Irvine. Musisi enlisted in the U.S. Army in 2000 and served in war in Iraq. He is currently assigned to the U.S. Army Reserve Centre as a Support Operations Officer in Los Angeles.
New UNAA Board:
President: Frank Musisi
Vice President: Moses Kalemba
Treasurer: Brenda Kalema
Secretary: Francis Ssennoga
Youth Board Member: Zena Mbega
Youth Board Member: Moses Male
Board Member Eastern: Ronnie Mayanja
Board Member Central: John Mutyaba
Board Member Pacific: Julius Kabukuru
Board Member at Large: Felix Kabuye-Kayanja
Board Member Uganda: Henry Nsereko
Board member Canada: Vacant

Outgoing UNAA Board:
President: Abdul K. Kimbugwe
Vice President: Moses O. Nekyon
Treasurer: Brenda Kalema
Secretary: Francis Ssennoga
Youth Board Member: Grace L. Sebugwawo
Youth Board Member: Flex K. Kayanja
Board Member: Ben Omara Abe
Board Member: Michael Miti Kavuma
Board Member: Benon Mukasa
Board Member: Patrick Iga Musisi
Board Member: Tom Mutyabule
Board Member Canada: Johnson Mujungu
Board Member Uganda: Henry N. Busulwa
Amy Jeffries has spent more time in Africa than anywhere outside her home state of Connecticut.She has been infatuated with Africa since first studying economics on the continent in the seventh grade. Later she learned to play a little djembe in high school and college. Her affection for Africa was sealed after studying abroad as an undergraduate in Zimbabwe in 2000.She has reported from South Africa and Zimbabwe and has written about Nigerian and Ethiopian immigrants in California.She is currently pursuing concurrent master's degrees in journalism and African studies at the University of California, Berkeley, and is looking forward to a life in Africa.





(No Ratings Yet)


Loading...