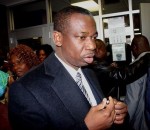 BROOKLYN CENTER, Minn. – Kerper A. Dwanyen's rivals in the Organization of Liberians in Minnesota's presidential elections must have know very early that he was the man to beat. Perhaps that is why, a few weeks before the Dec. 2 elections, some of his opponents renewed accusations that as the leader of the Nimba Redemption Council, during Liberia's civil war, Dwanyen had been involved in atrocities against innocent civilians.
One Web site posted a picture of Dwanyen with the headline "DO NOT VOTE FOR A REBEL LEADER???" Over the headline, an animation of dripping blood lingered. After lengthy prose outlining the accusations, there were horrifying pictures from the 14-year civil war: Women and children grieved, militants dragged naked bodies of their enemies, a boy soldier waved a human heart in his hand.
But at approximately 2:15 a.m Monday, when the last ballot was counted, it was Dwanyen who got the last laugh when OLM members elected him president with 793 votes. The incumbent, Martha Sinoe, came in a distant second with 436 votes, followed by Wynfred Russell (257) and Jackson George (229).
"People looked at my character, confidence and vision for the Liberian community," Dwanyen said in reaction to his win. "I'm feeling very elated and humbled."
A more detailed report to follow.
Edwin Okong'o is a Mshale Contributing Editor. Formerly he was the newspaper's editor.





(No Ratings Yet)


Loading...