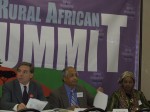 The last weekend of October, 2008, the Institute for Agriculture and Trade Policy (IATP) held what's hoped to become an annual conference, the first of its kind in Minnesota and possibly the entire country. Founded in 1986 by an international board of directors who shared a common vision for farmers the world over IATP works to ensure fair and sustainable food, farm, and trade systems both in policy as well as practice.
IATP is a non-governmental agency that is locally rooted yet global in its concerns. Corinne Rafferty, vice president for IATP programs pin pointed an essential component of their organization. "Government agencies often focus on providing services; we focus on changing policies so that, for instance, rural communities in the Upper Midwest can thrive," said Rafferty.
This inaugural conference, Summit for Africa, provided a chance for education, information sharing, and networking to over 150 African refugees living in rural Minnesota communities as well as recent African refugees living in the Twin Cities. Also attending were professors, concerned citizens, social workers, community planners, political aides, and others who are involved in the concerns of both rural Minnesota and African immigrants.
Monday morning, October 27th Summit for Africa opened its second day of activities at the Radisson Suite Hotel in St. Cloud, Minnesota. Because of IATP's focus on agriculture, and in recognition of the growing immigrant population who are relocating to rural communities, IATP has developed a program specifically to help integrate rural African immigrants into their chosen communities with an objective that they become successful, long term residents.
Keynote presenters for the morning included IATP's CEO Jim Harkness, Minnesota state resettlement coordinator Gus Avenido, and Director of Immigrant Development Center in Fargo, North Dakota Fowzia Adde.
Avenido works extensively with Africans resettling in rural Minnesota. He described rural communities as those comprising less than 2500 people. Places such as Olivia in the west-central part of the state or Tracy in southern Minnesota are typical of the rural towns in which immigrants relocate.
According to IATP over 20,000 African immigrants now live in rural Minnesota. Immigrants' relocation site from their homeland is a result of various decisions such as joining existing family already located here, personal preference, or the subjective decision of an Immigration officer. 
Unlike other immigrants who can resettle at a US location of their choice, refugees are often assigned a location. When a refugee arrives in the United States and there is no family reunification in the plans, the State Department assigns the refugee to a location.
"The resettlement office helps with housing, learning English, medical services, employment, and other issues," said Avenido. "It takes a lot of time for a newcomer to integrate into these communities," he continued. "Social services are very limited in such areas," Avenido said.
In addressing the Summit for Africa audience, Avenido quoted extensively from a report on rural life titled "Perceptions of Rural America," published by the W.K.Kellogg Foundation and studied by Greenberg, Quinlan, Rosner Research. Referencing this report, Avenido suggested that perceptions are dichotomous in rural America. "Rural life represents traditional values, but it is behind the times," said Avenido.
As an example, Avenido quipped, "If you want to meet Somalis for a conversation, you go to Starbucks. In rural America, there are no Starbucks."
The refugee resettlement officer took issue with the stereotype "Rural life looks serene and slow paced." In fact, said Avenido, "Rural life is also grueling."
Despite the commonly held perception that rural life is friendly, to outsiders, stated Avenido, rural life can be encountered with indifference. "Everyone knows everyone; everyone cares for one another," but you have to be a part of the system, connected to the community to be included in that care, suggested Avenido.
Finally, Avenido highlighted that, "People depend on their neighbors; there is no public transportation." In other words, integration can be essential for the successful rural immigrant.
"It's all about relationships," said Avenido. "Networking takes a lot of time, but we don't have a lot of time in job development. Successful integration has to be dependent on the relationships that are built over time."
The third keynote speaker, Fowzia Adde, fluent in five languages, chose to speak in Somali with Garat Ibrahim, IATP's Rural Communities Organizer translating for her. As the director of the African Development Center in Cass County, North Dakota and Clay County, Minnesota, Adde works to improve community life with respect to their burgeoning diverse populations.
Key to creating a cooperative work environment, said Adde, is encouraging cooperation between one institute with another institute as well as "proactively integrating our culture" with that of Minnesota's (and North Dakota's) culture.
Adde also spoke about the differences she saw between the two cultures. Adde said, "As a parent, to my memory, we never had the opportunity to speak with or back to our parents. Our African way to show respect was to keep quiet, but here (in the United States) it is different. Here we have to understand that our children must discuss issues with us. Old culture is in conflict with the new culture. As a parent, we have to engage our children," said Adde, a sentiment that applies to a cross-section of parents and children regardless of their rural or urban status.
Several discussion groups were held following the morning's address. Topics included law, economic development, housing, human rights, employment, health, and education. Facilitators for these discussion groups ranged from Professor Abdulkadir Alasow who teaches at Mankato State University to Hussein Farah with African Development Center, a financial services institution.
Cultural understanding was foremost in the presenters' orientation. A quick example of the need for this respectful mindset was made apparent in Farah's discussion when he noted that "Most lenders (of American lending institutions) do not ask an African 'how many families are you supporting back home?' they'll just look at the income and make the loan accordingly. At ADC, we include that question."
The need for cultural sensitivity rose to the top of concerns for many who attended the conference. At the same time, as was pointed out by Siad Ali, staff worker for Minnesota Senator Amy Kolbuchar, "We have to help employers to understand the different culture and build that trust. However we can't demand that a company change their policy because this is America, not Somalia," said Ali.
Susan is based in Minneapolis and reports on general assignments for Mshale with a focus on entertainment. In addition to reporting, she is also a writer, poet, teacher and coach.





(No Ratings Yet)


Loading...