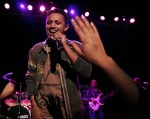 Addis Ababa, Ethiopia- AFP reports that Tewodros Kassahun "Teddy Afro", an Ethiopian pop singer and activist, has been
sentenced to six years in prison for a hit-and-run that resulted in the
death of a homeless man.
Teddy Afro has denied the charges saying that he was not in Addis Ababa at the time of the alleged crime. The accident occurred in 2006, however, Teddy Afro was not arrested and charged until April of this year.
Teddy Afro's arrest two years ago captured the attention of many Ethiopians who saw his arrest as political persecution. Teddy Afro had been known to sing anti-government songs that accuse the government of not doing enough for its people.
Kassahun's lawyers will appeal the ruling.





(No Ratings Yet)


Loading...