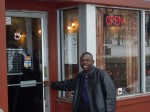 Editor's Note: The National Bureau of Economic Research has
reported that the US Economy is in recession. The end of 2008 has seen
thousands of Americans lose their jobs, and millions of dollars lost on
Wall Street. This is a first of recession-related articles from Mshale
Newspaper that will cover the impact of the economy on the African
community.
This is a scary time for businesses; especially small businesses. All are feeling the squeeze of the economic downturn.
Many had hoped for a holiday redemption but weak sales triggered business closings from online stores to the malls and to the streets.
Some experts believe that the small business sector will survive because it has always been the most resilient in the economy, benefiting from the lack of cumbersome fixed cost base that burdens large businesses and with little or no debt to service. In fact, it is widely believed that the recession will result in a larger number of business startup in the coming years as individuals stricken by the downturn resort to embarking on their postponed hidden desires to branch out on their own.
Over two years ago restaurateur Stephen Kaggwa embarked on his own journey of entrepreneurship. With the right ingredients on hand—a background in business education, industry experience, a cooking hobby turn vocation, a willingness to take risk and the guidance of a nonprofit businesses development center—Kaggwa started as co-owner of Tam Tam's African Restaurant in the Cedar Riverside neighborhood. It has definitely been rewarding but not without its challenges.
Knocking the table in front of him, Kaggwa says, "We're doing fine so far. If things don't start to look up come spring, early summer then I'll start to get nervous. For now, we're okay."
As the only Pan-African restaurant in the Twin Cities (serving dishes from East, West, Central and South Africa), Tam Tam's is still being discovered by people in the metro and surrounding areas. You can say that they are still coming into their own, which is not a bad place to be in an economy such as this. The steady flow of traffic from the East African population in the neighborhood, students from the University of Minnesota and Augsburg College, surrounding institutions like the Fairview University Medical facilities and other downtown area businesses is keeping Kaggwa and his team busy.
In addition to the growing requests of catered private and corporate events, Tam Tam's is starting to participate in signature events in and around the cities like the Annual Taste of Many Cultures held in December 2008, which is a multicultural evening of food music, dance and fun, sponsored by the Multicultural Development Center (MCDC) and Cub Foods. Kaggwa is pleased to be able to share a part of the African culture through food with Minnesota's growing multicultural community.
Like many small businesses, Kaggwa is incorporating strategies to improve business and help carry him through the economic downturn:
Cost-saving measures
Kaggwa has not had to layoff his staff, however, they he has to cut back on their hours. That means that Kaggwa is spending more time at work and, at times, wearing twice as many hats during the day—greeter, waiter, cook, cashier, janitor, etc.
"It gets tough but that's what it takes to keep the doors open sometimes," Kaggwa said.
Customer service and satisfaction a high priority – this is an area where many immigrant and minority businesses struggle with but Tam Tam's doing a great job at it.  Kaggwa's big smile, big heart, sociable personality and passion for what he does come through Tam Tam's service and atmosphere as well. Customers rave about the experience.
One satisfied customer wrote on Chowhound, an online post for food lovers, "…the service was among the best I've ever gotten, extremely attentive, and this guy [Kaggwa] really seemed to enjoy this restaurant operation."
Kaggwa recognizes that customers show their appreciation by coming back again and by referrals.
Time-saving measures
"When you're cooking African food, you have to start from scratch and it takes more time than most American food preparation. When you're out spending leisure time with friends over dinner, that's no problem but when you have only a few minutes to spare on a lunch break, waiting is out of the question," Kaggwa said.
To tackle that challenge, Tam Tam's launched its lunch buffet in November 2008. "The buffet works well for people who want to enjoy the food but would like to get in and out as fast as possible.
"The cost is reasonable and comparable to other buffets, the items are visible and they also get a chance to try items that they might not have tested otherwise."
Tune in to Customer Concerns
Ingredients and spices used in African cooking are not enticing to everyone. Stories are sometimes told of individuals unintentionally transferring not-so-pleasant food smells to places where it's not very welcome or of outfits that had to be thrown out because even professional cleaners failed to do the trick. There are also stories of apartment managers having the "smell talk" because other tenants had complained about the African who wanted nothing more than the comfort of some "back home" cooking.
Laughing, Kaggwa says, "We've had to modify some of our recipes to avoid such incidences." In addition, spice is served on the side and spicy dishes are clearly labeled to ensure that there are no surprises.
Diversify customer base
"Going into this business I knew one thing for sure—that Africans have not fully embraced the American culture of eating out. Their first preference is to cook at home, not to mention the fact that many African households fall into the low income category. I understand that they have to stretch their money so when they come to Tam Tam's I want it to be a real treat for them. I also rely on them for feedback on my cooking," Kaggwa said with a smile.
Tam Tam's goal has always been to serve food that everyone enjoys – authentic enough for Africans looking for food that reminds them of "home" and tasty and enjoyable for non Africans who are looking to try something different or share in the culture.
New Business Opportunities
The chance to cater for private and corporate events have been a great way to add to the bottom line and get their name out in the community. Signature events like the Tastes of Cultures and others help Tam Tam's to share, learn, expand and grow.
Provide work opportunities
Many of Kaggwa employees are students from the neighborhood. He is glad that he is able to provide employment for people in the community. He says it makes the business operation even more meaningful.
Good standing with bank and investors
Kaggwa is proud of the financial standing of his business. He keeps in touch with his financial partners, keeping them apprise of company developments and opportunities he's considering. A plan to move to a larger location was put on hold because of the dire business climate.
The strategies Kaggwa has put into place is serving him well and keeping his doors open. In addition, his attention to the economy and customer preferences will help him make the adjustments needed to survive the downturn.
Kaggwa understands the challenges of doing business in a tough economy and acknowledges that there is more than could be done to help him get through, like marketing, advertising and perhaps creative strategies to engage customers. However, with running a lean operation and his having to wear multiple hats most of the time, there is a limit to what can be done.
The economic downturn is adding more steam to the heat in Kaggwa's kitchen but he hopes that his survival strategies will be sufficient to put out any looming fires.
SIDE BAR
At the recent 20/20 Community Development Expo held in November 2008, Hussein Farrah, Business Program Director at the African Development Center (ADC), speaking on a panel at Impact of Immigrant Entrepreneurs the breakout session called, said that one of the main challenges faced by immigrant entrepreneurs is cultural barrier.
Farrah said that many understand that the ups and downs of a business is a given; it is part of the playing field. However, sometimes they fail to attribute the shortfall to the overall market or the current business environment. Therefore many fail to look for changes in customer psychology and behavior in order to plan appropriately to better meet those challenges.
Farrah said that ADC works with immigrant business owners to help them understand the differences in doing business in America compared to in their home country. ADC was instrumental in Tam Tam's startup and in 2007 awarded Kaggwa Small Business of the Year in the African Community.
Tam Tam's Restaurant is located on 605 Cedar Avenue South, Minneapolis, 612-339-0854. The lunchtime buffet is only $7.99. For a full menu listing click here.

Rita Apaloo is the founder of African Women Connect, a networking organization based in Minneapolis.





(No Ratings Yet)


Loading...