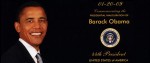 Mshale, along with its partners Accents Telecom and
Casablanca Restaurant is hosting a three course dinner on inauguration
day to mark this historic occasion.
The African Diaspora in Minnesota is very diverse: from refugees who have resettled in Minnesota to students like Obama's father there are close to 70,000 Africans in the state. Thus, Obama's ascent to the presidency of the US has been of particular pride to many African immigrants.
Across the country plans of festivities are underway. For those who will not make it to Washington for the inauguration, Mshale will host a dinner in Minneapolis on January 20th.
Mshale has engaged the services of award winning chef Keysee of Casablanca Restaurant who will whip up some of his finest delicacies including Tilapia fish, which is a staple in western Kenya where the president-elect's father hails from.
Casablanca is located at the Profile Event Center in Minneapolis: 2630 University Ave SE,  Minneapolis, MN 55414. (612) 331-5000
Dinner is $25/plate. To make reservations click here.





(No Ratings Yet)


Loading...