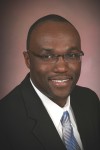 Tom Gitaa, the founder and publisher of Mshale, was recently elected to head the board of directors of Books for Africa (BFA).  Gitaa was named president-elect, a two-year term position, following the board's December election in Minnesota.
He has served on the board since 2007 and was an active member of BFA's Ambassador's Circle for five years prior to joining the board.
Gitaa, who has been instrumental in efforts to elevate the visibility of BFA, succeeds current president Michael Henley, whose term ends at the end of 2009.
"I am quite humbled at the board's confidence in me and pledge to work with them to build on the success that Books For Africa has achieved,"Gitaa said in a statement on his election.
"Books For Africa is a great organization with a stellar record of effective use of donor resources to benefit the children of Africa.  I look forward to its continued growth."
Gitaa is the founder of Mshale newspaper, one of the largest newspapers in the United States serving the African immigrant community.
"Tom has developed a broad network of relationships in Africa, in African communities in the U.S. and with the general public at large," said ThomasWarth , the founder of Books For Africa.  "The respect he commands as a business leader and the success he has achieved in the alternative media community makes him an excellent choice for president of the board at this juncture of our development."
Henley has worked closely with Gitaa and admires his passion for projects benefiting Africa.  "I look forward to working with him and serving with him in his new role," Henley said.
BFA is the largest shipper of donated books to Africa in the U.S. The twenty-year old organization has shipped over 20 million books to schools and libraries in 45 African countries
Visit the Books for Africa website here.

Sahra Mohamud is a Mshale Staff Reporter based in Minneapolis. She is an alumni of the University of Minnesota School of Journalism and Mass Communications.





(No Ratings Yet)


Loading...