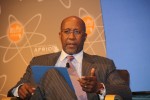 WASHINGTON – Secretary of State, Hillary Clinton, listed conditions that she said will propel Africa to prosperity – chief among them being responsible leadership.
In an address to the 7th biennial US-Africa business summit, Clinton  outlined strategies to help spur economic development in Sub-Saharan Africa and create conditions that will improve the lives of the African people, saying that "we have to acknowledge that none of this can happen without responsible African leadership, without good government, transparency and accountability, without acceptable rule of law, without environmental stewardship and the effective management of resources, without respect for human rights, without an end to corruption as a cancer that eats away at the entrepreneurial spirits and hopes of millions of people."
According to the Secretary of State, "We are eager to move beyond stereotypes that paint Africa as a land of poverty, disease, conflict, and not much else. And we will continue to lay a strong foundation for a new kind of engagement with Africa, one that is built on shared responsibility and shared opportunity, and on partnerships that produce measurable, lasting results."
"I don't need to tell this group that although there are so many opportunities for investment, none will succeed unless conditions are favorable for business and investment," she added.
Clinton told the summit that Companies are not going to be attracted to states with failed or weak leadership, crime or civil unrest, or corruption that taints and distorts every transaction and decision, or to countries that violate the rights of their people and, worse, allow violence toward women and girls to be practiced with impunity.
She listed five key areas the US wants to partner to create prosperity to include trade, development, energy security, public private partnerships and "fifth, and perhaps most important, we are stressing good governance, transparency and accountability, ending corruption, and adherence to the rule of law."
She offered South Africa as a compelling example of the relationship between good governance and economic development, stressing that South Africa emerged from apartheid and engaged its citizenry in the democratic process and is now Africa's economic engine. She cited Rwanda as another good example in the continent.
Secretary Clinton however acknowledged the challenges that lie ahead even as Africa puts its house in order but should not be used as an excuse, "now, we know that there are a lot of obstacles to overcome, but we are determined to work with you to achieve the goals that we have set forth. I was delighted that President Kagame was here, because even with the global recession, Rwanda's health indicators are improving, its economy continues to expand, and that is directly traceable to the sound policies that the government has implemented."
She also pointed out that the Government of Botswana in its early years of independence was visionary as regards its mineral wealth. The leadership there was so devoted to building a country that would have the advantages that they wanted to see for their people after colonialism had finally ended. So they struck a hard bargain, and they created, essentially, a trust fund where a percentage of the revenues from the diamonds went into that fund, and then that fund was used to pave the roads. "And if you have traveled in Botswana, you know that the roads are the best in Sub-Saharan Africa except for South Africa. And we can see the results year after year after year," she said.
Organized by the influential Corporate Council on Africa (CCA), more than 1,500 business leaders from the private and public sectors in the U.S. and Africa attended, making this year's summit one of the largest.
Pre-summit events included honoring of Mr Jakaya Kikwete, President of Tanzania generally seen to have led the effort to improve key sectors of the country's infrastructure such as electricity, transportation, and education in a forum which was for business associations round the globe.
Also at the summit were country specific forums such as "Doing Business in Ethiopia", designed to highlight success stories from businesses that have already entered the Ethiopian market, network with other businesses interested in Ethiopia, meet face to face with Ethiopian and American policymakers and business men and women, and build potential partnerships for the future.
Similar forums were held for Angola and Namibia which allowed participants to network with both private sector and government officials from the respective countries. Several bilateral workshops were also held and they spanned agriculture, tourism, power, infrastructure and financing.
There was an array of corporate sponsors for the summit overall and for the various workshops and plenary sessions. They ranged from media giants to oil firms and nutrition solutions firms such as Novus International which touts itself as a global leader in creating science-based nutrition and health solutions. The company, a gold level sponsor of the agribusiness workshop told members of the press during a briefing session that the company's products are in over 90 countries around the world and that it is 'committed to helping feed the world with wholesome food and achieving a higher quality of life.'
Dr Christopher Knight of Novus said at the media session that Novus "believes in empowering producers with tools and knowledge that will help make a positive impact in their local communities and the world."
Novus unveiled a fellowship program targeting African scientists that will entail the scientists coming to Novus' research facility in Missouri. The program is collaboration between USAID and the Gates foundation which Novus' Joyce Cacho emphasized is a long-term commitment by her company and will not be dependent on the funding from the Gates foundation and USAID, "as we now want to turn our attention to Africa", she told members of the press. A scientist from Mozambique will be among the first recipients with the overall aim of the fellowship being the transfer of some applicable knowledge to Mozambique.
Stephen Hayes, president and CEO of CCA in welcoming participants said that the 2009 summit took a new approach by spotlighting a limited a number of key sectors where opportunities are most promising.

Williams Ekanem is Mshale's Washington, DC based correspondent.





(No Ratings Yet)


Loading...