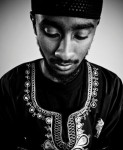 Boonaa Mohammed, a critically acclaimed award winning poet, writer, playwright and upcoming filmmaker paid a visit to the University of Minnesota as the keynote poet for the annual Poetry Jam hosted by the Muslim Student Association.
A 22-year-old Canadian-born Muslim, Mohammed is the son of Oromo refugees. His family is from Oromia, a region within Ethiopia that has been fighting for autonomy. There have been alleged atrocities committed against the Oromo people by the Ethiopian government.
"My parents were very heavily involved in the Oromo Liberation Front, as well as various movements to liberate the Oromo people. And at a young age, my parents were forced to flee Ethiopia," said Mohammed.
They first moved to Djibouti where they sought asylum there and then they moved to Egypt. Soon after, they moved to Canada and Mohammed was born.
He started writing poetry at a very young age. Mohammed, a super-spiritual individual, says he sees himself as a storyteller who uses poetry to express his inner thoughts, attitudes and feelings about religion, politics, different relationships and other things that interest him.
"Like many young people, I was into hip-hop. When I was growing up, I used to rap and I always had a thing for storytelling and that is all I do, I tell stories. I was always interested in words and where they can take you and your mind. It was a natural progression from my childhood. And now I explore my storytelling in many different mediums," he said.
Mohammed is a unique character known for his sense of humor and captivating presence on stage. He has toured the world and has also traveled extensively across the United States as the front man of a group called the Kings of Kush. He has won numerous competitions and poetry slam awards including winner of the 2007 CBC Poetry Face-Off  "Best New Artist" award.
Aside from being a poet, Mohammed is also an activist and works closely with youth. He conducts writing workshops and seminars to share his experience with predominantly disenfranchised kids. He says he loves working with kids and believes that passing the ancient tradition of story telling to the younger generation is important.
"I do a lot of spoken word workshops with kids really under the framework of communications. I am teaching these kids effective communications techniques, especially kids from rough neighborhoods; they don't know how to express themselves. As Muslims we are supposed to join good and forbid evil; by doing acts of good in this world, you are respecting the authority of Allah (God) and it becomes an act of good. And for me, I come with a mindset of helping these kids to speak up against evil," Mohammed said.
Mohammed is currently working on crossing over into the world of theatre. He has a writing residency at the Theatre Passe Muraille in Toronto. He is working on his first play entitled "Purple Don't Cry Love." His latest album is entitled "Stranger to this World."
Mohammed is a student at Ryerson University.

Sahra Mohamud is a Mshale Staff Reporter based in Minneapolis. She is an alumni of the University of Minnesota School of Journalism and Mass Communications.





(4 votes, average: 4.50 out of 5)


Loading...