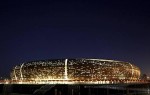 FIFA has sold 90 percent of the nearly three million tickets available for the World Cup, which starts in South Africa in 30 days, organizers said on Tuesday.
"All tickets will be sold out. I am quite confident about that," said Danny Jordaan, chief of the organising committee.
"About 300,000 tickets were sold in the last few weeks alone," Jordaan told a press conference.
The majority of the tickets had been snatched up by South Africans, followed by Americans and British.
South Africa was allocated discounted tickets, in a bid to allow ordinary people to watch the tournament, which is being played in Africa for the first time.
Last month, FIFA opened over-the-counter ticket sales, following complaints that the previous Internet sales system was too difficult to access in a country with relatively little online access.
The tournament runs from June 11 to July 11.





(No Ratings Yet)


Loading...