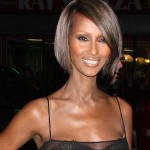 Kelly Rowland is out and supermodel Iman is in as the new co-host of  "The Fashion Show."

According to The Hollywood Reporter, Iman has signed for a gig on the second season of Bravo's couture competition, which returns to air later this year.

She'll be joining designer Izaac Mizrahi as they challenge and critique up-and-coming designers on "The Fashion Show." For the network, Iman just seemed to be natural fit for the gig.

"Breaking barriers in the fashion industry," said Bravo Executive VP Frances Berwick. "Iman is a true pioneer and her unparalleled credibility will inspire the contestants and be a perfect match to the always exciting, Isaac."

Iman – whose real name is Iman Mohamed Abdulmajid – will be 65 in July. Born in Mogadishu, Somalia to a high-ranking diplomat family Iman was discovered while in college by photographer Peter Beard.
"I am so excited to be joining the Bravo team and to be working again with Isaac Mizrahi, my close friend of many, many years," Iman added. "I am also looking forward to all of the behind-the-scenes excitement and drama that is generated through the creative process of these undiscovered fashion designers. This will certainly be a show any follower of fashion will want to see."
The supermodel is CEO of IMAN Cosmetics, Skincare & Fragrances, a line of female products. Iman also serves as host of 'Project Runway Canada.'
Iman replaces Kelly as Isaac's stylish sidekick. Bravo didn't say why they decided to re-accessorize the show for the new season.





(No Ratings Yet)


Loading...