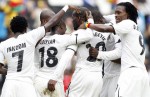 Algeria, Cameroon, Nigeria, Ivory Coast, Ghana along with hosts South Africa will represent the African nations in the 2010 World Cup.
Former Salgaokar coach Karim Bencherifa and noted football commentator Novy Kapadia analysed the six African countries on CNN-IBN's World Cup special show A Beautiful Game.
South Africa
"For the hosts South Africa, the opening tie with Mexico is very important. They have tremendous team spirit and physical fitness, so if they can get a good result in the opening match. The key players Steve Pinnear, Shaballala and Modisse have to pull something out and then hope their team spirit will take them forward," said Novy Kapadia.
Ivory Coast
"The opening match with Portugal is crucial ans sadly they will miss Drogba. The spine of the team is excellent, they have some of the hardest tacklers – Zakora. But everyone would miss the presence of Drogba. It is a very tough group to get through from," said Kapadia
"Didier Drogba is the hope of African football and he was the only hope for Ivory Coast. It is disappointing to see star like him and Essien miss the event. But I still feel all the African teams still have enough depth and quality to shine in the World Cup," said Bencherifa.
"Drogba is not just the great player he is also a great social activist. He tried to stop the Gorilla war in his country. He is a mixture of Mahatma Gandhi and Sachin Tendulkar in his country," added Kapadia.
Nigeria
"They have wonderful attacking players. Obafemi Martins and Yakubu (Aiyegbeni ) have great pace. Nigeria against Argentina will be a thriller as far as opening round of the contest because Nigeria have the combativeness to upset Argentina's rhythm. They have chance to progress to the round of sixteen," observed Kapadia.
Algeria
"They have found the core of players that helped them make the finals after 24 years but these players play in lower division clubs and they are also in a very difficult group," said Bencherifa.
Cameroon
"The most strong and complete African team in this World Cup is Cameroon and they are in a comparatively easy group. Samuel Eto'o has big chance to prove on the big stage," opined Bencherfia.
Ghana
"If they had Michael Essien they would have done better. He is the dynamo in midfield, who links defence and attack and can bring a lot of caliber in the team. Since they are in a very tough group, I think Ghana will struggle and Germany and Serbia will go through," said Kapadia.





(No Ratings Yet)


Loading...