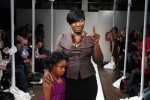 Despite getting eliminated and feeling irked about losing season five of Bravo TV's hit show "Project Runway," Korto Momolu still pushes her fashion creativity to inspire people across the world.

Momolu, 35, born in Monrovia, Liberia immigrated with her family to Canada in 1990, where she lived for 20 years.
"We went back and forth," Momolu said during a phone interview on Tuesday evening. Momolu, the second of three siblings resides in Arkansas with her 6-year-old daughter and her husband.
Momolu steadily re-emerged as the noted African fashion designer, stylist and one of the most selected works in the fashion industry. Many viewers followed the extraordinary designer through a reality TV show that earned her the fan favorite on season five.
"As a black woman I was very proud of myself," Momolu said.
The competitive reality series did not merely boost Momolu to climb the hills of the fashion industry. It was a gut feeling that prepared her for the emotional journey and to audition in New York for "Project Runway", Momolu said.
"It was emotional for me," she said. "You get so far and you wonder why you didn't win. But letters of encouragement from all over the world motivated me to go forward. Regardless of what happens, we have to keep going and claim the American dream."
Despite the emotional roller coaster, Momolu is able to ruminate on her life and to capture those who embraced her talent at a tender age.
"I have always been creative," Momolu said."My art teacher nurtured my talent and directed me to fashion design."
Whether it was cultivating her fashion talent at Richard Robinson School of Fashion in Canada, or emancipating from the many talents she possessed, Momolu always landed on fashion design. She has done fashion design, interior design, photography, hair, makeup and music, Momolu said
"When you're an artist it's hard to be in one lane," she said. "But fashion design is one I went back to because it came natural to me."
Momolu's collection brand bears her name, "Korto Momolu."
Her work is known for the fine texture, long garments, exhilarating colors, print and beading that accentuate her work. "I use a lot of print and beading," Momolu said. "That's one way of knowing it is a Korto Momolu. I put something together that no one can."
Momolu designs with the intention of attracting all female consumers, and eradicating their insecurities when it comes to buying "Korto Momolu" clothing.
"I know their insecurities," she said. "I make something that compliments them. Not trashy."
Aside from her clothing, Momolu will launch her accessories line for Dillard's on New York Fashion Week in December. Dillard's is based in Arkansas. The company approached Momolu and asked to see her work, she said.
Launching Korto Momolu handbags and jewelry with Dillard's in February was amazing, Momolu said.
"Unlike Project Runway, I can pick my models on my solo shows," she said. "It is amazing to see my lines in major department stores."
"Korto Momolu" jewelry has gained the same popularity as its designer. Vanessa Williams, Whitney Houston have placed special orders of her jewelry. But her most memorable so far was doing custom designing for President Ellen Johnson Sirleaf of Liberia.
"Doing a custom design for the president of Liberia was the best thing I have done," said Momolu.
Korto Momolu perfume and bedding are something to watch for as Momolu's fashion design progress, she said.
Momolu, a firm believer in jewelry has a fixed idea on what she would design for First Lady Michelle Obama, if asked.
"I would make a piece of jewelry for the First Lady," Momolu said. "It becomes a piece of treasure. She can pass it down to her children."
For the first time, the designer will appear on EVK's Runway Africa in Minneapolis on July 17th to showcase her work and to visit some of her family.
Still, Momolu doesn't consider herself a celebrity. For her, touring states like Minnesota is about connecting with people.
"It's about showing my work and seeing me," she said. "It just makes it real and it can inspire people. I hope to have a big crowd when I come to Minnesota."
Editor's note: Enter a free ticket drawing on our Facebook fan page for a chance to win a pair of tickets to go see Korto Momolu at EVK's Runway Africa show at the Epic in Minneapolis on July 17. Simply enter a comment where her photo appears by Monday, July 12.
Faiza Abbas Mahamud is Associate Editor at Mshale having started as a Staff Reporter. She has a BA in Journalism and Women's Studies from Augsburg College. She is author of the documentary "Somali Women's Education". She is based in Minneapolis.





(No Ratings Yet)


Loading...