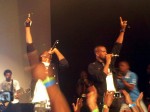 When I heard that P-Square was coming to the US for a tour, I was willing to travel to whatever city they were scheduled to visit because at the time, there was no word that they would perform in Minnesota. Then it was big news that they had indeed been nominated by the BET Awards for the "Best International Act".
For those that have been following P-Square's career, this was no surprise because for every milestone that African artists were told they could not achieve, Peter and Paul have set to achieve it and surpass it. This is a great motivation for Peter and Paul Okoye the duo that is P-Square.
After the P-Square concert in Houston, Texas, the anticipation of their performance was raw, there was a collective held breath in anticipation of their Minnesota concert which was preceded by the concerts in Los Angeles and Oakland in California. They were brought to Minneapolis courtesy of BCS African Foods, a Brooklyn Park based wholesale importer of African foods.
On Saturday, July 10, 2010 the crowd was wound up tighter than a corkscrew in anticipation of seeing them perform live. The dozen or so clips all over the social media networks had whet my appetite for the duo and of all the fans were eager to witness the magic that is P-Square on stage.
The concert was held in Brooklyn Center just outside of Minneapolis and when we arrived, we were greeted by dozens of fans holding their posters of Peter and Paul, fans taking pictures on the red carpet sponsored by Access LIB. The fans were dressed to the nines and ready for the dynamic duo to hit the stage.
The moment P-Square hit the stage, the audience lost all decorum and crowded the stage to get a close-up of the bizzy body magic that brought hits like Ifunaya, Do me, I love you, Possibility and many more. Peter and Paul performed in perfect harmony making sure that every girl in the audience felt touched by their lyrics, dancing to the frenzied screams and even slowing things down so that every lyric was heartfelt and repeated by the audience.
At one time Peter and Paul cut the beat and in acapella mode and pointing to each other, belted the phrase, "who wants to marry my brother?" I believe that it is at this point that my ear drums went numb from all the screams that rocked the house. They also gave tribute to the Ibo tribe. P-Square serenaded the fans, broke out into pitch perfect dance which was full of energy and that rhythmically rocked the fans into stepping out and just having the best time ever.
P- Square's songs are written and produced by Paul Okoye. It was clear on stage that Paul is the lyricist while Peter is the dance dynamo. They are doubly talented and skilled and that is why the concert was so on point. They capitalized on their strengths and the live band and dancers serve as a unit that is so in sync with each other that they serve to provide a seamless show.
The P-Square duo had a chance to engage in an intimate meet and greet at Klub Afrika's VIP lounge with a select group of fans in Brooklyn Park the next night, before jetting out.
P-Square is scheduled to perform in Maryland, Washington DC, Virginia, detour to Ontario, Canada before ending the US Tour in New York City. For more information on specific dates and times please visit P-Square's Facebook page or their website.






(No Ratings Yet)


Loading...