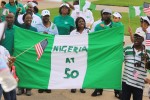 On October 1st,
Minnesota's Nigerian community gathered in St. Paul to celebrate Nigeria's
independence from the British. Marking the country's 50th
anniversary at the State Capitol, Gov. Pawlenty touted the strategic ties
between Nigeria and the U.S., and particularly with the State of Minnesota. It
is estimated that roughly 6,000 Nigerians live in Minnesota.
The highlight of the
celebrations was a parade that stretched from Marshall and Lexington in St.
Paul to the State Capitol. With police escorts close to one hundred people
marched while singing the Nigerian and American national anthems along with Nigerian
folk songs. Adorned in green and white, the color of Nigeria's flag, the
marchers jubilantly waved their flags.
This West African nation is one of seventeen countries celebrating fifty years
of independence from European colonial rule. Tunde Famodu, 64, who
migrated to the US in the seventies, was among several Nigerians who gave
testimonies about what independence meant to them.
"Nigeria is a loving nation with loving people. I was born during the
colonization of Nigeria. 50 years later, here I am. I am very happy for Nigeria
and I am so proud to witness such a day."
Other the speakers included RoseAnn
Zimbro, from the DFL party, and Joy Choima Nnadi, who congratulated Nigeria.
Nnadi, of Brooklyn Park, said she was proud of Nigeria's accomplishments and
happy to see "Nigeria at 50."
For some, independence
celebrations were bittersweet. For Yahaya Nok, who moved from Nigeria in 1988,
the discovery of natural resources has changed Nigeria's trajectory. According to the U.S. Energy Information
Administration, Nigeria was one of the top five sources of U.S. crude oil
imports for the month of July importing about 1.143 million barrels per day.
"Nigeria was better in the '80s because
there was security," said Nok. "People could move from North to South, East to
West anytime without fear of armed robbers or kidnappers. Education was free
from primary school to university. There was free healthcare and no religious
divide and violence," added Nok.
Tunade Shonoiki, a realty
broker in Minneapolis, agreed with Nok. He says after 50 years of self-rule, he
hoped Nigeria would be in a better economic and social stage.
"There was a better
lifestyle, schools, roads and more employment. We use to have constant water
supply and electricity and less corruption. Now, Nigeria is not the same,"
Shonoiki said.
Despite the dissatisfaction
with Nigeria's political progress, other Nigerian Diasporans were hopeful for
the future. They are certain that with time, Nigeria will be better in the
future and set an example for other African nations.
"It is time for our leaders
to wake up and realize how far behind the country is. Especially when compared
with other countries with similar resources. I pray that the next 50 years will
be far better than the previous years."
Although
Nigeria is still a developing country, its current growth rate is close to 10%.
Its booming economy includes Nollywood, the world's third largest producer of
films and the development of telecommunications has been rapidly increasing in
the last few years.
After listening to his
daughter, Agwoi, sing the Nigerian and US anthems, Nok said that 50 years of
independence from colonial rule was very significant to him.
"It will make us evaluate where we are now
and look ahead to where we want to be in the next 50 years. I envision
Nigeria's future as a free democracy where there will be free and fair
elections and where elected leaders will govern according to the wishes of the
people."

Sahra Mohamud is a Mshale Staff Reporter based in Minneapolis. She is an alumni of the University of Minnesota School of Journalism and Mass Communications.





(No Ratings Yet)


Loading...