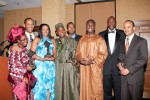 Hollywood actor, Adetokumboh M'Cormack, of "Blood Diamonds" and "Lost" keynotes
MINNEAPOLIS – A veritable who's who of the African immigrant community in the Midwest strode through the doors of the downtown Minneapolis Hilton on September 18 for the second annual African Awards Dinner presented by Mshale Newspaper.
Guests comprising of African professionals, academia and the business community dazzled in colorful African ceremonial attire and handsome black tie.
Sponsored by among others M & I Bank, the evening shone a light on this year's honorees of the African Awards. The four individuals and a multi-million dollar African owned business were then serenaded by a special song composed and sang by Leila Gitaa, daughter of Mshale founder and publisher, Tom Gitaa.
The elegant evening featured a keynote speech by Hollywood actor, Sierra Leone born, Adetokumboh M'Cormack, who has starred in such movies as Blood Diamonds and the TV series LOST. Mr. M'Cormack shared his story of how he made it Hollywood by overcoming naysayers and "staying focused".
Former Minneapolis news anchor, Robyne Robinson, was the evening's emcee.
Four categories were awarded: Community leadership, African Business of the Year, Friend of the Community and Student of the Year.
The evening kicked off with a cocktail reception followed by a sumptuous dinner consisting of Chicken and rice pilaf.
First off on the stage to receive her Student of the Year Award was Elly Roimen-Mathenge, a native of Kenya and an MBA student at Capella University.
She thanked her husband of three years, Patrick, for nominating her for the award. She said 'this motivates me to aim even higher," to cheers from the audience.
Despite being a full-time mother, a student and having a full-time job, Mathenge still finds the time to give back to her community. She has volunteered with the Catholic Charities to cook and feed for homeless people during the holidays for the last two years.
Mathenge has been in a leadership position with the Kenyan Women in Minnesota (KWM). She is active in the Kenyan community in Minnesota promoting unity within it.
Mathenge is a mother of two and lives in Brooklyn Park, Minnesota with her husband, Munene Mathenge.
Receiving the Community Leadership Award was Ahmed Sirleaf, a native of Liberia. He is a program associate in the International Justice Program at The Advocates for Human Rights in Minneapolis. In the African community and especially within Liberian circles in the United States, he is best known for his involvement and leadership role with the Liberian Reconciliation and Truth Commission, which encouraged Liberians in the Diaspora to take part in an investigation of human rights abuses during the civil war.
Clutching the specially designed trophy commissioned by Mshale and made in Africa, Mr, Sirleaf said "i really appreciate this award and this trophy as it is from my people." he then shared with the guests that what he enjoys most about his work is the ability it provides to have "a positive impact on people's lives while promoting human rights."
Mr. Sirleaf and his wife Venus live in the Twin Cities and have two little girls, Hawah Jasmine and Oumu Koja and their son born in July.
Dr. BraVada Garret-Akinsanya, a licensed clinical psychologist and the Executive Director of the African American Child Wellness Institute, was this year's recipient of the Friend of the Community Award.
Dr. Garrett- Akinsanya was so moved by the award that she gave the most tearful of acceptance speeches, thanking Mshale for the award and Mshale Founder, Tom Gitaa, for his "vision" in having the awards and "giving to those who have not asked for anything". She concluded a well received acceptance speech by calling for love in the community.
In addition to her many accomplishments, Dr. Garrett-Akinsanya currently sits on the State of Minnesota's Sub-committee for Children's Mental Health. She has worked in the field of mental health for over 28 years in a variety of public and private treatment settings.
Dr. Garrett-Akinsanya enjoys racquetball, writing, African cooking and traveling to exotic locations. She currently lives in Plymouth, Minnesota with her husband and soul mate of twenty-three years, Mr. Akinyele Akinsanya.
Metropolitan Transportation Network, Inc. (MTN Inc.) is one of the leading companies providing standard transportation services in Minnesota. It is one of the leading companies in the school bus transportation industry and is one of the fastest growing transportation companies in the upper Midwest region with estimated revenues of over US $7 million in 2010.
The company was started by Ethiopian-born, Tashitaa Tufaa after he lost his job with the Minneapolis Public Housing Authority. He was later joined by his extended family consisting of Gebi Koji, Anbassa Bukula and Tibesso Dayassa.
Mr. Tufaa was joined on stage at the African Awards Dinner by his extended family to give the acceptance speech to demonstrate the importance that team work plays in the success of their company. All three family members emphasized the importance their employees play in making the company a success.
"In this difficult economy, MTN has created and still provides employment opportunities to the African and mainstream communities. With nearly 190 employees, MTN Inc. makes sure to create jobs while maintaining our good name and helping our community as well," said Gebi Koji.
"Our communities are our daily life and no one can live without it. Anything that affects the community is bound to affect you. That is why we work real hard to be a leader," added Tufaa.
"Six years ago, we couldn't imagine being at this level, forget getting an award from Mshale. This is really special. This is a symbol of strength and growth to us."
The evenings' keynote speaker, Mr. M'Cormack, shared his early experiences about following one's dreams. He said when he first told his father that he wanted to pursue a career in acting, after a brief pause his father replied, "you are going to do this the right way" by attending acting school to receive the right raining. He moved to New York and signed up at the prestigious Conservatory of Theatre Arts and Film at SUNY Purchase.
"My parents encouraged my siblings and I to dream big. And it didn't matter if we wanted to be doctors lawyers, presidents – it was about being the best we could be", he said.
The Actor/Producer described the challenegs that he has faced and overcome to be a success. he has declined Hollywood roles that have portrayed Africans and Blacks as not intelligent enough, sharing how when he was asked to play a taxi driver teh role called for him to "dumb it down" as he was playing it "too intelligently".
He added : "I think Chinua Achebe said it best when he said "One of the truest tests of integrity is its blunt refusal to be compromised". We cannot compromise who we are because we fail to be a good example. I wanted people to know that my chocolate skin and wide African nose can play other characters. I would tell my agents I wanted to play characters that were more interesting and compelling and do projects that made an impact."
Mr. M'Cormack said he was happy to be part of the Blood Diamonds movie as it made a political statement and brought attention to a decade long civil war.
He called on those present to be pillars of support for each other and to "push each other to succeed."
The winners were chosen through a nomination and voting process by authenticated users on AfricanAwards.com. Nominated names in the different categories were then submitted to a panel of four judges chaired by retired Hennepin County Judge, the Honorable Harry Crump. The panel then pared down the names to three for each category. The finalists were then voted upon by the same authenticated users on AfricanAwards.com.
Congratulating the winners, Mshale founder and publisher, Tom Gitaa, also thanked the guests "for joining us tonight to celebrate our colleagues in the community in our collective quest for excellence and all that is good in the African community".
Notable guests at this year's African Awards Dinner included; Robert Ngwu, president of the National Black MBA Association-Twin Cities chapter and the first African-born person to ascend to the post; Felicia Ravelamanantosoa, Vice-president at M & I Bank and native of Madagascar; Michael Essien of Essien Law office and his wife Stella; Lane Ayres of Books for Africa and wife Marion; Wayne Doe, VP at Wellsfargo Bank; Bonita Martin of the Neighborhood Development Center (NDC); Lynn Owino of ETIA. Also in attendance was Hilda Nyaboke Mauya, 2010 Miss Africa USA finalist.
The 2011 Annual African Awards Dinner will be held on Saturday, September 17, 2011.
Editor's note: Read Sahra's personal reflections on the gala night in the Opinion section.

Sahra Mohamud is a Mshale Staff Reporter based in Minneapolis. She is an alumni of the University of Minnesota School of Journalism and Mass Communications.





(No Ratings Yet)


Loading...