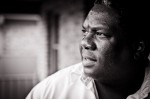 Vusi Mahlasela phones home to his wife and four children as often as he can, but with a tour schedule that keeps him away from South Africa nine months of the year, face-time is limited.
"This time," he says over the phone to Mshale, "I want to take things slowly; I am a family man and want to be at home." Thankfully, in 2011, he will still tour several months of the year. With his new release, Say Africa, he'll be giving us a taste of this Taj Mahal produced record when he performs at the Dakota Jazz Bar on Sunday, February 13th.
Splitting his time, however, might be a challenge. Mahlasela is in demand. After taking the stage at the FIFA World Cup opening ceremony in Johannesburg, SA last summer, 2010, he expanded his audience and fan-base. And while he'd like to spend quality time with his children, he's still mindful of the example he gives them through his music.
"We've been too quiet," he says speaking of those of us living in the luxury of freedom and security. He wants others to step up and stand for what's right. "One day [we'll] continue [to] carrying the torch of giving hope," Mahlasela said with conviction.
His part of the responsibility is to spread the message via his songs. He sings songs about wisdom, forgiveness, and teaching us that it's important to forgive. "If you don't forgive," he warns, "you become your own prisoner."
The theme of his newly released album is Ubuntu, a Zulu word that roughly translates as human-ness. Mahlasela provides many adjectives that collectively sum up Ubuntu: happiness, respect, obedience, empathy, and redistribution of knowledge and morals.
"In Africa," he says, "we go to sleep knowing that we care for one another. Ubuntu is Africa's gift to the world," Mahlasela says with conviction.
This attitude or demeanor of Mahlasela's is exactly what Lowell Pickett, owner of the Dakota Jazz Bar & Restaurant, noticed. "He's very comfortable with himself in any setting," says Pickett. "I think Josh Groban and Dave Matthews are in such different world and he can slide between them so comfortably because he's so centered," Pickett remarks. "He seems to have no ego."
Vusi Mahlasela
Sunday, February 13, 2011
7:00 pm
Dakota Jazz Club & Restaurant
1010 Nicollet Avenue
Minneapolis, MN 55403
phone: 612-332-1010
Susan is based in Minneapolis and reports on general assignments for Mshale with a focus on entertainment. In addition to reporting, she is also a writer, poet, teacher and coach.





(No Ratings Yet)


Loading...