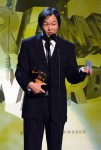 The first ever Grammy Award for a video game theme was awarded Sunday to the track "Baba Yetu" which is the opening theme to the video game Civilization IV. It won for 'Best Instrumental Arrangement Accompanying Vocalist'. It beat nominees such as Baby" by Roger Treece and "Based On A Thousand True Stories" by Vince Mendoza.
The song's lyrics are a Swahili translation of the Lord's Prayer written by composer Christopher Tin. The arrangement features the Soweto Gospel Choir & the Royal Philharmonic Orchestra. It was originally created for the Firaxis release back in 2005 and it featured on his album "Calling All Dawns" in 2009.
Industry watchers say the "Baba Yetu" win might provide some ammunition to Electronic Arts' campaign to lobby The National Academy of Recording Arts and Sciences (NARAS) to introduce a Best Video Game Score category for the growing number of composers creating original scores for video games.
"Baba Yetu" had previously been awarded two Game Audio Network Guild awards, and been performed in the Video Games Live touring concert series and at major venues such as the Hollywood Bowl, the Kennedy Center, and the Royal Festival Hall in London.
The title of the song means "Our Father" in Swahili; the entire song is a translation of The Lord's Prayer, blending African choral music with European harmonies. In Civilization IV, the song was first heard on the title screen and main menu.
"This win is actually sort of historic because this song was written for a video game, and this is the first time that a piece of video-game music has won a Grammy," Tin said in his acceptance speech. "So I hope this brings more awareness to the fact that great music is being written for video games out there, and that hopefully other game composers will follow me up here on the stage sometime."





(No Ratings Yet)


Loading...