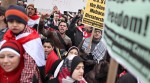 For nearly the entire 18-day protests against the regime of Hosni Mubarak, American University student Mariam Aziz, 19, and George Mason University alum Hossam Mansour, 27, could be heard outside the White House and the Egyptian embassy leading dozens of Arabs, Americans and Africans in chants calling for the end of the 30-year Mubarak regime.
Although Mansour and Aziz were both born in Egypt, they, like many others first heard about the January 25 protests that spawned a mass movement through Facebook. On that day in Washington some were draped in Tunisian flags, while others crying out the names of different Arab states in solidarity with the Egyptian people.
However, Aziz, who maintains her permanent address in Cairo while studying, at American University in Washington, D.C., is quick to point out that Facebook, Twitter and other online media were merely tools of the movement.
Credit the People, Not the Internet
"All of the credit for this goes to the Egyptian people. I hate to give credit to anyone but them, because they made this happen," said Mansour in response to media stories about the role of the popular Internet companies in the protests.
Mansour noted that the social networking group headed by Google executive Wael Ghonim and his peers–widely credited for the Internet's role in the demonstrations–had signaled a willingness to cut a deal with the Mubarak regime early in the protests. But the Egyptian people would not accept anything short of Mubarak's removal from office.
"The Egyptian people kept pushing and would not give up. Had they not kept pushing Mubarak may still be in office today," said Mansour.
Except for the initial January 25 protest organized in Washington, D.C., by the Egyptian Association for Change, a nonprofit, nonpartisan and nonsectarian organization, Mansour and Aziz were among eight Egyptian youth, who organized all of the Washington-based events held in solidarity with the millions gathered on the streets of Egypt.
This included a march from the White House to the Supreme Court on February 4, initially billed as "the day of departure," and another on February 5, from the Egyptian embassy to the White House. Mansour said the city of Washington, D.C., was very helpful in the planning of the events: "Everybody, even the police on the scene, was very understanding."
Democracy, Not Divisiveness
Because the Washington rallies brought together a wide range of people from such disparate nations as Tunisia, Ethiopia, Pakistan and the United States, there were instances when Aziz, Mansour, and their peers felt they needed to head off possibly divisive statements or actions.
For example, the young event leaders moved to quell heated disagreements about the role of Israel in the Mubarak regime, Arabic chants calling for Mubarak's hanging, and others objecting to the singing of the Egyptian national anthem at protests outside the White House.
Aziz recalled, "It was just something we had to deal with on the spot. We were just eight youth with no political agendas. All I'm fighting for is freedom and democracy. It wasn't about promoting certain people or parties, just taking that one down."
Likewise, Mansour said that although choosing the White House as one of the main locations for their demonstrations was deliberate, he understood, "This was very difficult for Obama because he was dealing with so much of the foreign policy establishment," all of them from an older generation than the 44th U.S. President.
"We were calling for Obama to take a stand and say he sides with the Egyptian people," Mansour said. In addition, Mansour said, the protesters expected Obama to pressure Mubarak, the long-time United States ally, "if not publicly, then at least in private."
On Obama's handling of the situation, Mansour observed, "given the circumstances I think he did good," pointing to the older members of his cabinet as a possible hindrance.
Despite temporary disagreements and setbacks, Mansour and Aziz concur that the gatherings have been a boon for the Washington-area Arab communities. "I didn't know many Arabs in D.C. before this," Aziz said.
Mansour stressed that for the past three years in Washington there have been protests and rallies for Egypt, "But we could never get more than 25 people to show up and now just look." He was thrilled to watch as crowds danced and cheered outside the Egyptian embassy on February12, celebrating the end of the Mubarak regime.
Mansour kept up with the events on the ground in Egypt through Facebook, CNN, radio and Al Jazeera.
Meanwhile, Aziz, whose television broke down during the last snowstorm, relied mostly on the Internet and daily telephone conversations with her parents for reliable information from Egypt. "Everyone else I knew was in Tahrir," she said.
Speaking of Al Jazeera's role as a constant source of information throughout the 18-day struggle, Mansour said he understands criticisms that the Qatar-based network may have had an agenda in its coverage, "but that's okay, because we needed them for information." If nothing else, he added, the network is "helping the spread of the democracy in the region."
"My Father Was Screaming and Crying"
For both Mansour and Aziz, the brief statement on February 11 by Egyptian Vice President Omar Suleiman announcing Mubarak's departure was charged with emotion. Aziz, who had been receiving constant updates from her parents in Egypt throughout the struggle, was heading into an economics exam at American University when her father called her "screaming and frantically crying. I had no idea what was going on." Her first thought "was that someone in my family had passed away."
After several seconds her father was able to calm himself down. "He got his words together and told me. I started crying and my heart was racing. I don't think I've ever failed an exam like I probably failed that one. My hands were shaking as I was writing. Who cares about an Econ exam when your country is free?"
Mansour, was admittedly more pragmatic and, as Aziz pointed out, "more optimistic" after Mubarak's February 10 statement. "I somehow thought the military just gave Mubarak 24 hours to either end this or get out. And that was the case," he said.
He learned that Vice President Suleiman's February 11 statement furthered his hopefulness. "I knew that Mubarak would never come out and say he's leaving. He has too much pride and ego and stubbornness and stupidity to do so."
Nonetheless, Mansour was no less emotional when the news finally set in. "Once it happened I jumped up over the chair and almost broke the door in my office and kept saying Tahia Mas! – Long live Egypt!"
In the days following Suleiman's announcement, Mansour and Aziz said their optimism and hopefulness have not faded. Addressing the crowds in a break from the singing and dancing, Mansour reminded them, "This is not the end, it's the beginning. We must keep going."
Mansour told the crowd that he and others will start a Washington-based watchdog group to ensure that the will of the people is truly served by any future government in the 7,000-year-old nation.
New America Media is the country's first and largest national collaboration and advocate of 2000 ethnic news organizations.





(No Ratings Yet)


Loading...