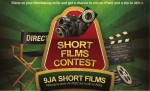 Dish Network and TV9ja have launched a Short Films Contest.
With a tagline for the contest on its website stating "It's not the size of your gear, it's what you do with it" TV9ja encouraged submissions regardless of whether they were shot on camera, tablet or phone.
The first prize winner will receive a round trip ticket to Nigeria and an Ipad2 while the second place finisher will receive a roundtrip ticket to Nigeria.
TV9ja which is based in New York is owned by the Afrotainment Family of Channels and airs Nigerian movies and music on Dish Network.
Rules for the contest can be found online at TV9ja.
The contest runs through March 31 at 11:00 P.M EST.





(No Ratings Yet)


Loading...