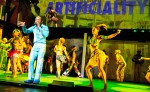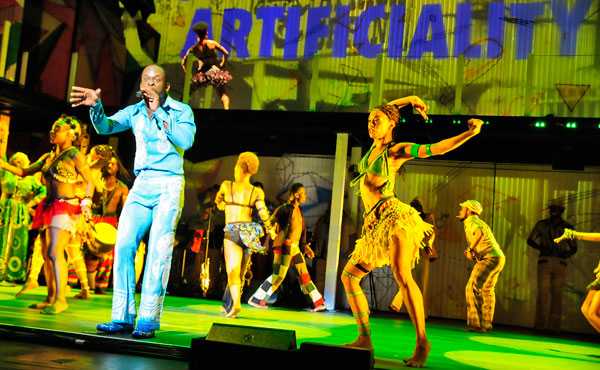 The Ordway Theater in St. Paul, presents a wide variety of performance art including dance, theater, and music. Their upcoming production of Fela! comprises all of these genres with an exceptional infusion of social commentary.
No re-creation of the life of Fela Anikulapo Kuti could justifiably omit his passion for social activism. Six days in June, Fela!, after its run on Broadway, will play to audiences in St. Paul. An Ordway Extra will take place one hour before the show on June 13, expanding on the theme of "Music as Social Change."
Jermaine Rowe, Fela! ensemble, spoke with Mshale last week. Rowe, a Jamaican native, joined the cast in London where it was regrouping to perform on stage at the National Theatre after its Broadway run.
Rowe believes the audience will come away with an understanding of the origins of Afrobeat, an pudding stone-like musical genre infused with Nigerian and African sounds, jazz, and funk.  This form of music was primarily created and promoted by Fela Kuti back in the 1970s.
At a deeper level, "[The play] affects people in different ways. The message is not an African message, it's a message of hope; it's the story of humanity," says Rowe.
During a scene in the play, "We symbolically walk onstage with coffins. These coffins contain injustices, things that matter to each artist," described Rowe. One coffin represents Fela's mother who was killed during a raid by the government in which Fela was badly beaten. "In Baltimore, Treyvon Martin's mother watched. We had a coffin with Treyvon's name on it. Those moments are powerful and beautiful," said Rowe.
The Twin Cities has been fortunate to enjoy performances by both of Fela Kuti's sons, Femi and Seun. Both sons bring in their own creative forces as they capture an Afrobeat groove in their respective performances.
To add authenticity to the production of Fela!, Femi Kuti and Seun Kuti were brought to a rehearsal. "We met his sons both," said Rowe, "they came to a rehearsal and were available to us. At one point in London, Seun showed us how his father would direct the band," the Jamaican actor said.
The Ordway will also host a talkback for "FELA!" on June 13 directly following the performance. The talkback will be a Q&A session about the show with members of the cast and creative team.
June 12-17, 2012
Performance Dates:
June 12 at 7:30 p.m.
June 13 at 7:30 p.m.
June 14 at 7:30 p.m.
June 15 at 7:30 p.m.
June 16 at 2 and 7:30 p.m.
June 17 at 2 and 7:30 p.m.
Ordway Center for the Performing Arts
345 Washington Street
Saint Paul, MN  55102
Ordway's Music Theater
Tickets start at $35 (including fees)
Ticket Office: 651.224.4222
Groups: 651.282.3111
ordway.org
Susan is based in Minneapolis and reports on general assignments for Mshale with a focus on entertainment. In addition to reporting, she is also a writer, poet, teacher and coach.





(No Ratings Yet)


Loading...