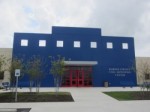 Victims of sexual assault in immigrant detention centers will no longer be excluded from protection under the Prison Rape Elimination Act (PREA), the White House announced Thursday. The Obama administration released a presidential memorandum to extend PREA to all federal agencies. Each agency is responsible for creating its own rules to comply with PREA.
The Prison Rape Elimination Act was passed unanimously in 2003. However, until now, the act has only applied to victims of sexual assault in prisons operated by the Department of Justice.
On Thursday, the Justice Department released its final rule on PREA, which will increase trainings of prison staff to identify sexual abuse, increase screenings of inmates and guards, and make it easier for detainees to report rape. Trainings and screening protocols will also take into consideration the needs of "lesbian, gay, bisexual, transgender, intersex and gender nonconforming inmates."
The Obama administration announced that all other federal agencies, including the Department of Homeland Security, which oversees immigrant detention centers, and Health and Human Services, which operates facilities for unaccompanied, undocumented children, will be required to draft their own separate rules within 120 days to satisfy the requirements of PREA and to finalize these rules within 240 days of their proposal.
New America Media is the country's first and largest national collaboration and advocate of 2000 ethnic news organizations.





(No Ratings Yet)


Loading...