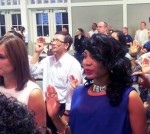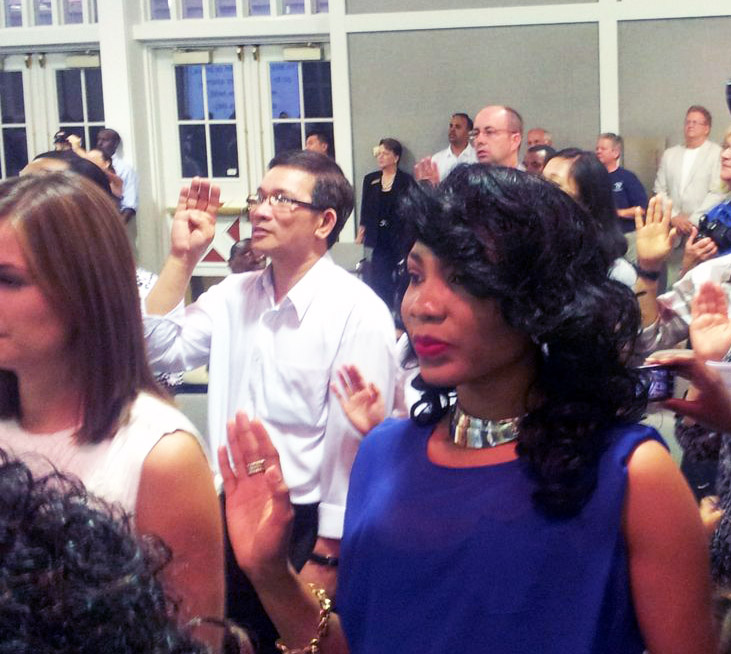 For Perpetual Garyeazon, there was only one word to describe her experience  last  month as she was sworn in as an American citizen during a naturalization ceremony at the Earl Brown Heritage Center in Brooklyn Center.
"(I) am so happy," said Garyeazon,  a native of Liberia. A beaming Garyeazon  said she was thrilled to be part of the process. She attended the ceremony with her aunt and cousin, Monnie, and was one of 431 people sworn in  as new citizens during a U.S. Citizenship and Immigration Services  naturalization ceremony.
According to Wanjirah Wanjiru, Adjudications Officer with the U.S. Citizenship and Immigration Services, 431 individuals sworn in as new citizens represented more than 70 countries.
Judge Gregory Kishel of the U.S. District Court for the District of Minnesota  administered the Oath of Allegiance.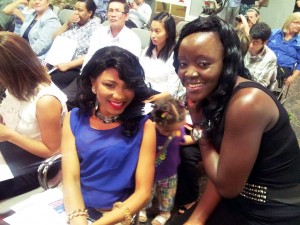 "I am a child of immigrants myself, my grandfather having come here from Europe,"Kishel said. "Our strength as a country comes from our diversity."
Kishel told the new citizens that becoming an American citizen carries rights and responsibilities such as the ability to vote. Becoming an American citizen does not mean abandoning the culture of where you came from but is part of a new experience where all cultures are celebrated.
Judge Kishel's message was reinforced by President Barack Obama. He told the new citizens via a video message to go forth and "be responsible citizens."
The League of Women Voters was also present to register the new citizens as voters. For this particular ceremony the League partnered with Brooklyn Park based African immigrant Services (AIS), a local non-profit that focuses on civic engagement.
AIS Executive Director, Abdullah Kiatamba, said he was there to help with the registration of potential voters "because such process helps increase electoral participation of African immigrants in Minnesota," he said. He prowled the aisles of the expansive hall collecting filled out voter registraion cards  after the ceremony and encouraged everyone to vote.
Garyeazon said she will do exactly that.

Born and raised in Kenya's coastal city of Mombasa, Tom is the Founder, Editor-in-Chief and Publisher of Mshale which has been reporting on the news and culture of African immigrants in the United States since 1995. He has a BA in Business from Metro State University and a Public Leadership Credential from Harvard's Kennedy School of Government. He was the original host of Talking Drum, the signature current affairs show on the African Broadcasting Network (ABN-America), which was available nationwide in the United States via the Dish Network satellite service. On the show, he interviewed Nobel laureates such as 2004 Nobel Peace prize winner, Professor Wangari Maathai, the first woman from Africa to win the peace prize and heads of states. Tom has served and chaired various boards including Global Minnesota (formerly Minnesota International Center), the sixth largest World Affairs Council in the United States. He has previously served as the first Black President of the Board of Directors at Books for Africa. He also serves on the boards of New Vision Foundation and the Minnesota Multicultural Media Consortium. He has previously served two terms on the board of the United Nations Association. An avid runner, he retired from running full marathons after turning 50 and now only focuses on training for half marathons.





(No Ratings Yet)


Loading...