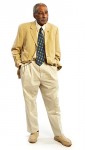 The University of Connecticut's first African-American professor, Rollin Charles Williams, died Monday, Sept. 24, in Waterford, Conn., after a short illness. He was 90 years old.
A professor emeritus at the time of his death, Williams was hired as a full-time assistant professor in the School of Social Work in 1957. During his 30 years with the University, Williams spent time running the admissions office and as an interim dean.
A warm, engaging man and gifted storyteller, Williams stayed in touch with many of his former students and held many fond memories of the University. He bequeathed a significant portion of his estate to UConn as a sign of his appreciation.
"After I arrived at UConn, I received requests from five different schools of social work because they wanted black professors," Williams said in an interview earlier this year. "Affirmative action laws had been passed. But I said no, I wouldn't take those jobs, because UConn took me when it didn't have to."
"The University was truly fortunate that Professor Williams chose to share his intellectual gifts with our students and campus community, and that he was so strongly dedicated to UConn, despite other schools' attempts to lure him away," said President Susan Herbst. "He exemplified the highest ideals of service, scholarship, and integrity, and leaves a legacy that we can all strive to emulate."
The dean of the School of Social Work, Salome Raheim, announced Williams' death to her faculty and staff earlier this week. "Rollin had a deep fondness for the UConn School of Social Work, and we are grateful for his commitment and contributions," Raheim said. "The School of Social Work community joins Rollin's family and friends in mourning his loss."
Born on March 19, 1922 in Kansas City, Mo., Williams was raised in Tulsa, Okla. during a period of racial turmoil in the city. He graduated valedictorian of his high school class and performed as a solo violinist with the school orchestra. He also earned honors as the Oklahoma state typewriting champion.
Full story @ UConn.





(No Ratings Yet)


Loading...