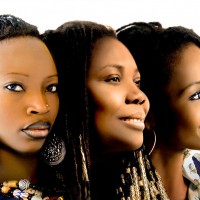 BBC Radio 3 Awards winner Dobet Gnahoré returns to Minneapolis this Sunday with two shows in one night.She will perform at 7pm and 9pm at the Dakota Jazz Club and restaurant in downtown Minneapolis.
Gnahoré won the Grammy for Best Urban/Alternative Performance for the song "Pearls" in collaboration with India.Arie in 2010 and has continued to garner a reputation as one of the most vibrant performers in the world music scene.
At the Dakota, Gnahoré will be joined by Côte d'Ivoire bassist and vocalist Manou Gallo who is the bassist for the popular group Zap Mama.
Acoustic Africa: Afropean Women which is what the Dakota has dubbed the evening will also feature young Cameroonian singer, Kareyce Fotso, whose music is a combination of Afro-pop, Blues and traditional African music.
American contemporary guitarist Leni Stern will join them for musical direction.
Tickets for the two October 21 shows are available online.





(No Ratings Yet)


Loading...