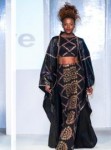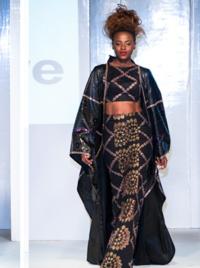 Last year Nnenna Obioha and Onyinyechi Egeonuigwe created the fashion and events Production Company,Africa Fashion Week Los Angeles (AFWLA, LLC.). Through dedication, hard work, and the support of a strong team, the duo was able to put together a week long event that raises the bar for future productions of the same theme.
Held at the Papillion Institute of Art, nestled in the heart of Downtown Los Angeles, the inaugural event attracted over 500 guests from the fashion, art, and entertainment communities. Upon arrival, guests were treated to complimentary drinks by Chambord and hor d'oeuvres as they mingled and enjoyed the art exhibition Identifly by Michelle Robinson. Each night of shows was opened up with vibrant African dancers who performed to traditional African music, followed by the main event of runway shows. The musical duo Nola Darling hosted the event, and kept guests informed and entertained throughout the entirety of the program.
Africa Fashion Week Los Angeles 2012 featured 16 local, national, and international designers who showcased their collections to a diverse room full of VIP guests including – MOCA director Jeffery Deitch, actress LaShontae Heckard, Arik Airlines executive Kobina Brew-Hammond, model/actress Keenyah Hill, and artist Michelle Robison. Models walked down the runway to a flurry of flashing lights, as media partners and guests snapped pictures of the amazing designs. The Africa Channel, CaliforniaApparel News, LA Raw Magazine, and Obvious Magazine were some of the many media outlets present capturing AFWLA. Guests received complimentary gift bags courtesy of AFWLA sponsors, which included: OPI nail polish, Clear Essence cosmetic gift sets, Vibe Magazine, BlackBook Magazine, Curls hair care products, Lamik cosmetics, and more.
The event has received an overwhelming amount of feedback and praise which the team will use as momentum for their next season of shows. The external support of sponsors, celebrities, and media contributed to AFWLA's appeal and introduction to the African fashion industry. In debuting and featuring designers who expressed a unique take on African and African-inspired fashion, the inaugural production intends to expand its goals as they relate to offering exposure to underrepresented members of the Western and European fashion industry.
On closing the night, as the founders reflected on the conceptualization ofAfrica Fashion Week Los Angeles, they both smiled in amazement of how a night of brainstorming evolved into a four-day production that would ultimately shift and propel LA's fashion scene. In short, it is true what they say: What a difference a year makes.





(No Ratings Yet)


Loading...