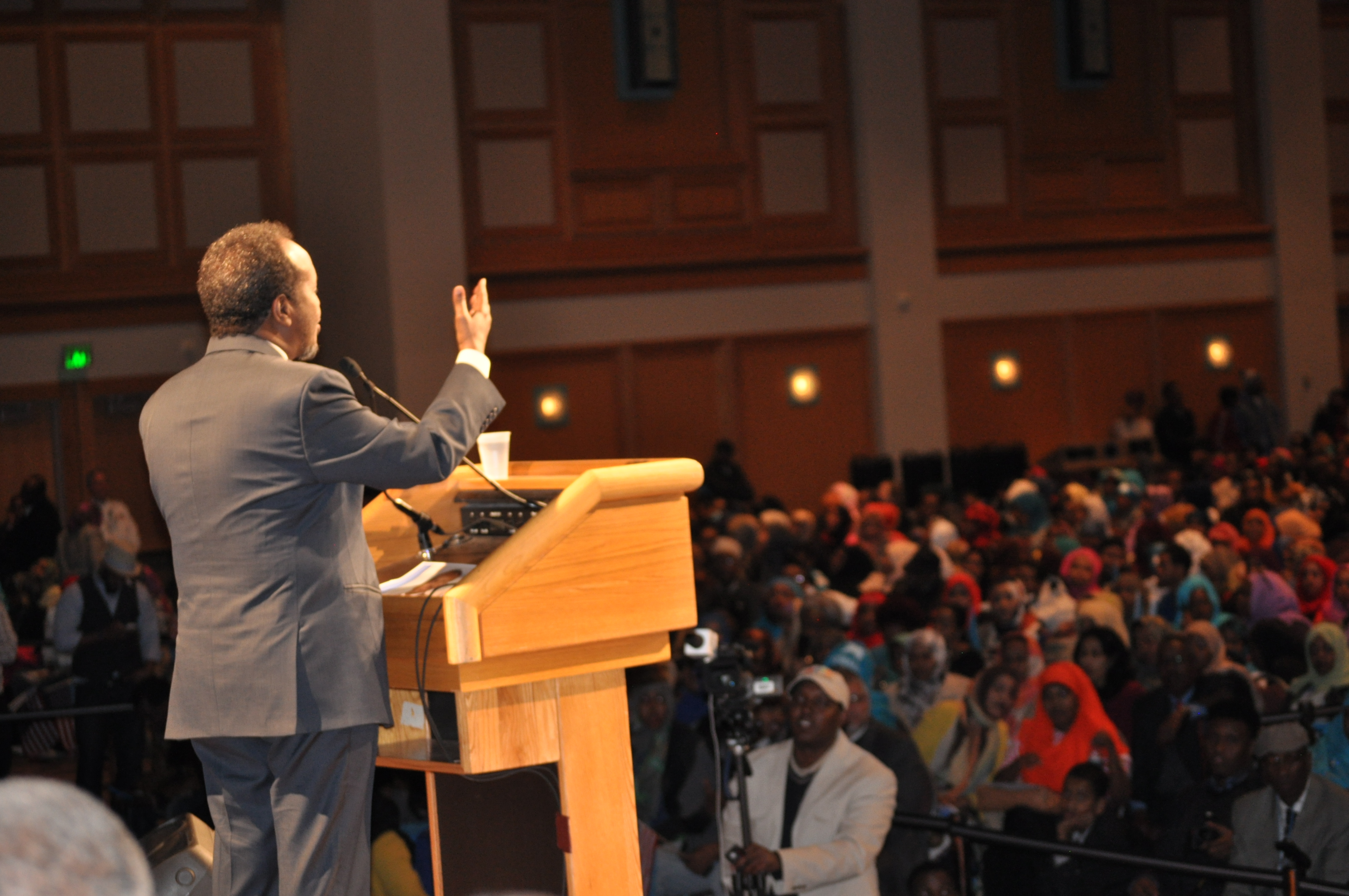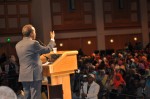 A day after meeting with President Obama and receiving recognition for his government, the new Somali president Hassan Sheikh Mohamud was greeted by a sea of waving flags in the hands of Somali-Minnesotans Friday evening at the Minneapolis Convention Center.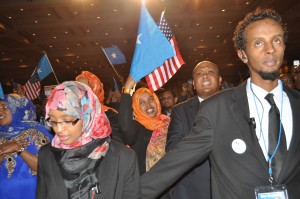 Speaking mostly in Somali, President Hassan Sheikh Mohamud addressed about 4,000 jubilant supporters and thanked the U.S. government for recognizing Somalia. Relations with the United States were cut off in 1991.
President Mohamud, accompanied by Deputy Prime Minister and Foreign Affairs Fowziya Haji Adam, Minister of Information and Telecommunication Abdullahi Elmoge Hersi and several senior advisors, talked about his mission to make Somalia a peaceful and stable country. "You can help us, but it is our job [Somali government] to fix the problems."
Not all were delighted to see Somalia's newly elected president. About 50 protestors stood outside the convention center chanting, "We don't need tribalism" and carrying signs with slogans including "We need a president who will follow the Somali Constitution."
The protestors demanded a federal government. "The president is confining Somalis," said Abdirashid Ahmed, one of the protestors. "Sheikh Hassan Mohamud is not going by the constitution."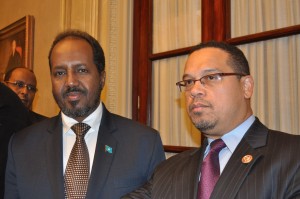 U.S. Representative Keith Ellison, D-Minn., embraced Somalia's president and reassured Somali-Minnesotans that the relationship between the U.S. and Somalia will continue. "I am as happy as anybody tonight. Somalia is not alone," said Ellison.
The president advised Somalis to avoid holding on to the past. "There is a price to pay in order to get that good Somalia," said Mohamud. He talked about love and patience as the key tools to rebuild Somalia. Mohamud shared with the crowd some of his experience with the U.S. president during his visit to Washington, D.C.
"President Obama has showed commitment and national recognition to Somalia," he said. "I have also met with Secretary Hilary Clinton. She made some promises for us."
Faiza Abbas Mahamud is Associate Editor at Mshale having started as a Staff Reporter. She has a BA in Journalism and Women's Studies from Augsburg College. She is author of the documentary "Somali Women's Education". She is based in Minneapolis.





(5 votes, average: 5.00 out of 5)


Loading...