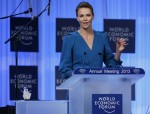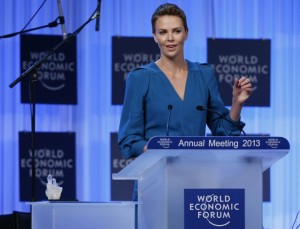 DAVOS, Switzerland – The actress Charlize Theron and two documentary filmmakers received awards for their humanitarian work as the World Economic Forum opened in Davos Tuesday.
Ms. Theron, who won the best actress Oscar in 2004 for the film "Monster," was honored Tuesday for her work fighting H.I.V. among impoverished young people in South Africa, where she was born.
Ms. Theron's appearance was a bit of a departure for the World Economic Forum, which had dialed back the celebrity glamour after the appearance in 2006 by Brad Pitt and Angelina Jolie threatened to overshadow the rest of the annual meeting.
Ms. Theron was decidedly lowkey and humble as she accepted the Forum's Crystal award from a stage in the Davos Congress Center.
"There is an incredible brain trust in this room," she said, referring to the Davos participants. "I feel like I'm getting smarter just by osmosis."
Wearing a simple blue dress and heels, Ms. Theron noted, with some understatement, that she was often in the spotlight. "I decided the best thing you can do with that spotlight is to stand in the shadow of something and shed some light," she said.
The Charlize Theron Africa Outreach Project finances programs designed to prevent the spread of H.I.V. among young Africans, particularly in South Africa, which has 5.9 million infected people, Ms. Theron said. According to the organization's Web site, charlizeafricaoutreach.org, the programs include mobile health services in an exceptionally impoverished region of South Africa.
The World Economic Forum also honored two other artists: Sharmeen Obaid-Chinoy, a Pakistani filmmaker; and Vik Muniz, a Brazilian artist.
Full Story here.





(No Ratings Yet)


Loading...